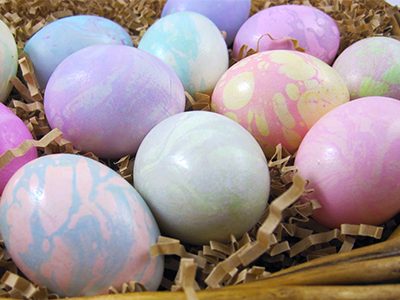 For marbleized eggs, coat eggs with a base color and let dry. Mix STAR Extra Light Olive Oil into another color of dye. The oil will repel color in some places and the dye will adhere in others, creating a marbled effect.
Here are more detailed instructions:

1. Hard boil your eggs as desired. In shallow bowls, mix together three cups of warm water with two tablespoons of vinegar and ten drops of food coloring. Whisk the ingredients together well.
2. Submerge your eggs and leave them in there until they reach the desired color. It is better to have a lighter color as the base color so the second layer of color will take well on your eggs.
3. Dry your eggs with a paper towel.
4. Repeat the process with the rest of the eggs. Rest them gently on your egg carton to allow them to dry.
5. To create the marbleized look, add one tablespoon of STAR Extra Light Olive Oil to the dye that you have already prepared, and then, using a fork, run your fork through the oil to break the oil into pieces to create the solution to roll your eggs. As the oil swirls, roll your egg once through a contrasting color. Allow the oil to pick up & create another round of color on your eggs. Blot gently with paper towels.
Enjoy!
Comments
Leave a Comment
You must be logged in to post a comment.