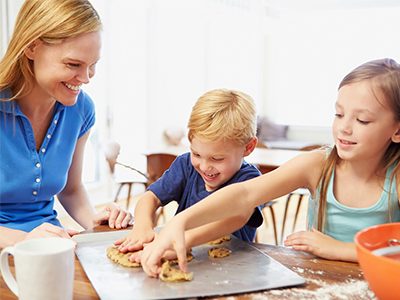 Take advantage of Mother's Day to show your Mom just how much she means to you. Here are some ideas to help you make the most of Mother's Day!
Breakfast in Bed
Start Mom's morning off right by surprising her with breakfast in bed. Impress her with these divine Walnut Rosemary Olive Oil Scones or this tasty recipe for this hearty Spinach, Artichoke and Sun Dried Tomato Frittata. You can also serve some of her favorite fresh fruits and don't forget the mimosas!
Give Mom the Day Off
The title of "Mom" comes with many duties. This Mother's Day, give your mom the day off. Encourage her to relax or send her off to get a massage while you tidy up the house, weed the garden, or any other chore that you know she would appreciate.
Create a Meaningful Gift
Create a meaningful gift to show mom how much you treasure her. Try making a handmade card, pick up a bouquet of her favorite flowers, or create a "coupon book" of various things she would appreciate (this coupon is good for one foot massage, one week of doing the dishes after dinner, etc). Another idea is to make a memento of something that you would not have been able to accomplish without her. For example, an award you received, a picture of your diploma, or a drawing of the front door of your new home.
A Day Together
Clear your schedule for the day and gather the family to celebrate together. Play some of Mom's favorite games, go out to see a movie or visit the zoo. Whatever it is, Mom will be happy to be spending time together with her family.