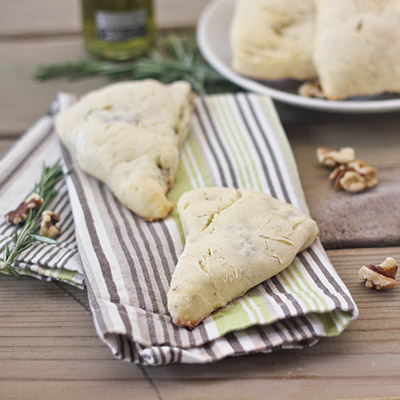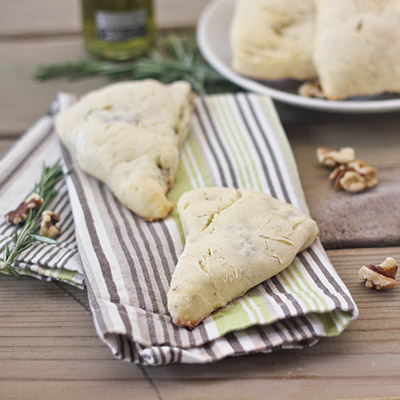 Ingredients
1 cup buttermilk
1 egg
2 1/2 cups flour
2 1/2 tsp. baking powder
1/2 tsp. salt
1/4 cup sugar
2 Tbsp. fresh rosemary
1/4 cup STAR® Rosemary Infused Olive Oil
3/4 cup walnuts, toasted
Instructions
Preheat the oven to 400 degrees. Line a large baking sheet with parchment paper or a Silpat liner. In a small bowl, whisk the buttermilk and egg and set aside.
Combine the flour, baking powder, salt, sugar, and rosemary in a large food processor and pulse to combine. While the food processor is running, stream in the rosemary-infused olive oil and then the buttermilk & egg mixture and continue to process until just combined. Gently fold in the walnuts. The mixture should be a little wet but should pull away from the sides.
Turn the dough out onto a lightly floured surface and gently knead until the dough is uniform and is no longer stick; it shouldn't take more than 4-5 turns. Shape the dough in to a circle, about 8 inches in diameter. Cut into 8 slices, as if you are cutting a pizza.
Place the slices onto the prepared baking sheet, leaving a little space between the scones. Bake in the 400 degree oven for 16-18 minutes until the bottoms are golden brown and the scones are puffy.
Cool on a wire rack or serve warm.