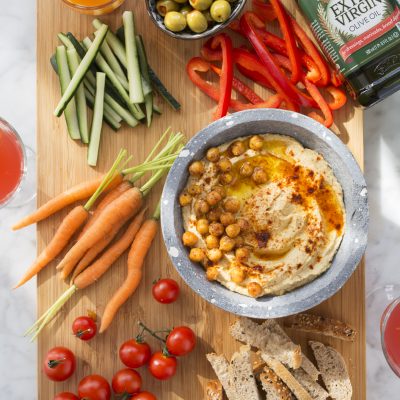 The time has come to put on the apron and get cooking as a family for the best dad in the world. Here are four irresistible dishes:  
How about an impressive Mediterranean brunch? 
Drizzle some extra virgin olive oil onto some seeded bread and add salmon, poached egg, arugula and mozzarella, all washed down with a multicolored smoothie with red berries.  
 A tasty green smoothie to treat yourself in the afternoon! 
Avocado, green apple, kiwi and a dash of extra virgin olive oil—fantastic!  
 Tomato heaven 
There's nothing easier and more sophisticated than preserving sun dried tomatoes in extra virgin olive oil with your favorite aromatic herbs. 
 Let's hear it for hummus! 
This healthy snack never lasts long on the table… Let your imagination run wild and give it a fresh twist by making red lentil or beet hummus (OMG!). Serve with some crudités… et voilà!