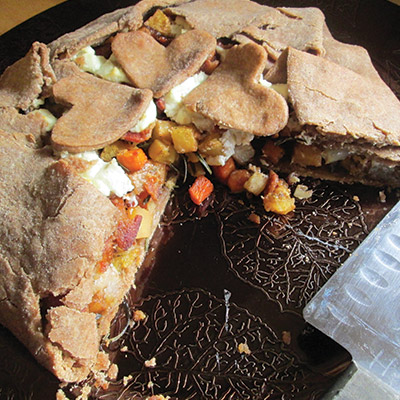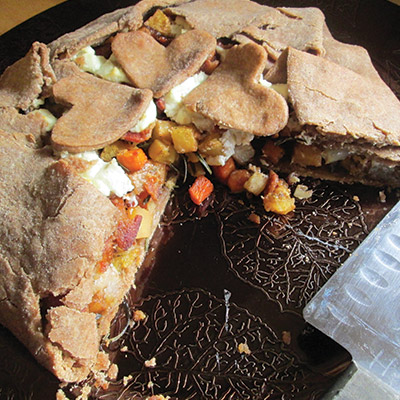 Ingredients
Roasted veggie filling

1/4 cup STAR Extra Virgin Olive Oil
1/4 cup med. dice red onion
1/4 cup med. dice yellow onion
1/3 cup med dice turnip
1/3 cup med. dice sweet potato
1/3 cup med. dice rutabaga
1/3 cup med. dice carrots
1/3 cup med. dice parsnip
1/3 cup med. dice acorn squash
2-3 sprigs of fresh rosemary
2-3 sprigs of fresh thyme
2 Tbsp. STAR Balsamic Vinegar
1 Tbsp. minced fresh garlic
4-5 strips smoked bacon cooked and crumbled
4 oz. plain goat cheese
Salt and pepper to taste

Crust

1/4 cup STAR Extra Light Olive Oil
2 cups whole wheat flour OR do a 50/50 brown rice and potato flour mix
1 tsp. salt
1 tsp. dried thyme
1/2 cup cool water
Instructions
Peel and slice the skin off of all vegetables. Dice all veggies into a medium sized dice (about 1/4 inch) and toss in the garlic. Drizzle on the balsamic vinegar and olive oil over the diced veggies on a parchment lined tray/baking sheet. Tear thyme leaves off of stems, sprinkle over the veggies.
Place 2-3 sprigs of rosemary into the mix, then toss the whole lot with tongs. Season with a dash of salt and pepper. Bake for about 30 minutes or until the veggies are fork tender. Toss the vegetables around every 10 minutes or so to make sure they bake evenly.
For the crust
Mix everything together in a bowl with a fork until it lightly comes together. Toss some flour over your counter and roll the dough out until it is a circle of about 14 inches across.
Lightly flour rolling pin and dough then roll dough up around it. Wrap with plastic wrap and set in fridge while the veggies bake to chill. When the vegetables are tender take the crust out of the fridge and roll out over a round baking sheet lined with parchment. Pile the cooked vegetables high in the middle of the dough (be sure to pull out rosemary). Sprinkle cooked bacon over the vegetables. Crumble the goat cheese over the veggie pile.
Season with salt and pepper to taste. Drizzle a bit more olive oil over the veggies if you like. Fold the crust up and around the vegetable pile in the middle leaving a hole in the center. Bake for 22-25 minutes, cut up and serve hot and enjoy!