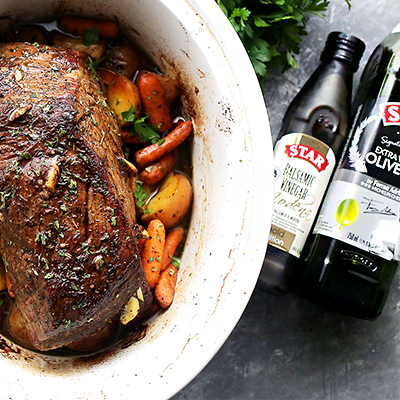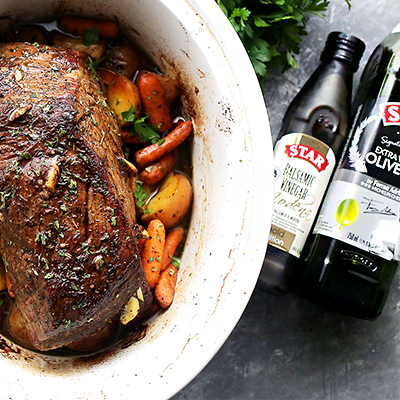 Ingredients
2 pounds small potatoes, halved
1 pound baby carrots
Salt and fresh ground pepper, to taste
3 to 3.5 pounds boneless rump roast
6 garlic cloves, halved lengthwise
1 teaspoon dried oregano
1 teaspoon dried thyme
1 teaspoon dried basil
1/4 teaspoon ground nutmeg
1/4 cup chopped fresh parsley, for garnish
Instructions
Spray a 6-quart slow cooker with cooking spray.
Place carrots and potatoes on the bottom of the slow cooker; season with salt and pepper and set aside.
Make 12 incisions around the meat and insert a slice of garlic into each.
Season the roast with salt and pepper.
Place the roast, fat side down, over the carrots and potatoes. Set aside.
In a medium sized mixing bowl combine balsamic vinegar, olive oil, oregano, thyme, basil and nutmeg; whisk until well combined. Slowly pour the balsamic mixture over and around the roast. If needed, use your hands to coat it evenly.
Cover and cook on LOW for 6 to 8 hours OR on HIGH for 4 to 6 hours. Roast is done when internal temperature reaches at least 145-degrees Fahrenheit.
Remove meat and let rest at least 10 minutes before cutting.
Cut into thin slices and serve with prepared potatoes and vegetables.
Recipe developed by: http://www.diethood.com
Prep Time: 10 mins
Cook Time: 6 hrs
Total Time: 6 hrs 10 mins
Serves: 8