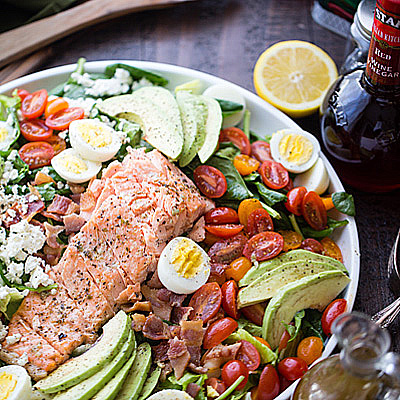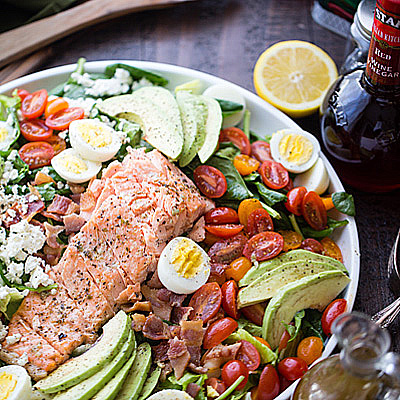 Ingredients
Salmon

4 (3 to 4 oz. each) salmon fillets
1 garlic clove, minced
Salt and fresh ground pepper, to taste

Salad

4 cups baby spinach
4 cups torn romaine lettuce
2 large hard-boiled eggs, cut in slices
4 slices turkey bacon, cooked to a desired crispness and crumbled
2 cups cherry tomatoes, halved
1/2 cup crumbled fat free feta cheese
1 avocado, cut in slices
1 lemon, cut in slices

Dressing

1/4 cup STAR Extra Virgin Olive Oil
2 Tbsp. STAR Red Wine Vinegar
1 Tbsp. lemon juice, or to taste
1 tsp. Worcestershire sauce
1 tsp. Dijon mustard
1 clove garlic, minced
Salt and fresh ground pepper, to taste
Instructions
Preheat oven to 425F and line a roasting pan or baking sheet with foil. Drizzle some oil over the top of each salmon, just enough to coat the salmon.
Sprinkle the salmon with salt and pepper, and rub in the minced garlic. Place salmon in previously prepared pan, skin-side down; transfer to the oven. Roast for 15 to 18 minutes, or until salmon flakes easily with a fork.
Remove from oven and set aside. In the meantime, prepare the salad. Arrange baby spinach and lettuce in a large salad bowl. Top with prepared salmon, eggs, crumbled bacon, tomatoes, feta and avocado. Set aside.
In a small mixing bowl or a jar with a lid combine extra virgin olive oil, red wine vinegar, lemon juice, Worcestershire sauce, mustard, minced garlic, salt and pepper; whisk until thoroughly incorporated. If using a jar, close it with a lid and shake the jar until well combined.
Pour dressing over the salad, garnish with lemon slices, and serve.
Recipe developed by: http://diethood.com
Prep Time: 15 mins
Cook Time: 20 mins
Total Time: 35 mins
Serves: 4