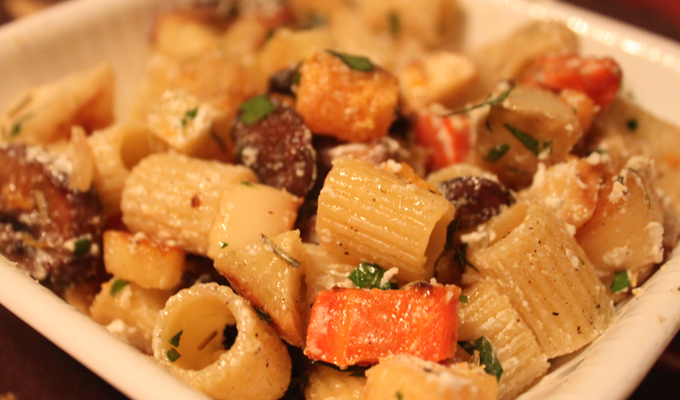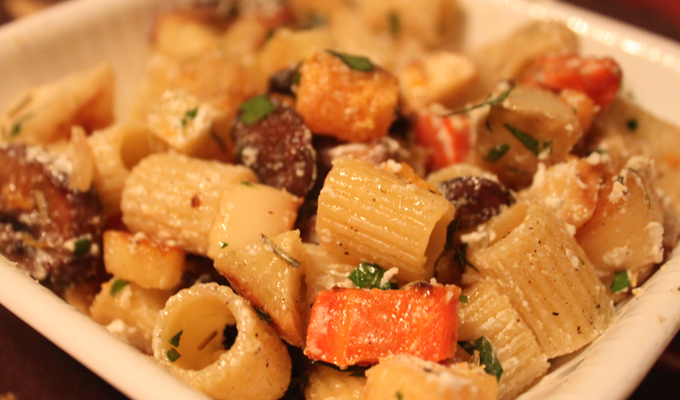 Ingredients
1 small butternut squash, peeled and cubed
3-4 parsnips, peeled and cubed
3-4 small turnips, peeled and cubed
3-4 carrots, peeled and cubed
1 large sweet potato, peeled and cubed
4 Tbsp. STAR Extra Light Olive Oil 

For Soup

8 cups chicken or vegetable stock
1 box short cut pasta, such as rigatoni
6 garlic cloves, peeled and crushed
10 whole sage leaves
1 Tbsp. dried rosemary
8 springs fresh thyme
1/2 cup finely chopped parsley
1 cup crumbled goat cheese
STAR Balsamic Vinegar (for soup)
Instructions
<h6>Pasta</h6> Preheat oven to 425°. Prepare a roasting pan or rimmed cookie sheet by lightly greasing it with a small amount of Olive Oil to keep vegetables from sticking.
When chopping and peeling the vegetables, make sure to cut the vegetables into small, equal-sized pieces. They'll cook more evenly if they're all similar in size. Try not to cut the pieces too small, as they will shrink while roasting. Spread chopped veggies in a single layer on cookie sheet or in roasting pan. Add 3 Tbsp. of  Olive Oil, dried rosemary, salt, and pepper, and use a fork to toss until vegetables are coated thoroughly.
Place vegetables in the oven. Roast for about 10 minutes to soften. While this is happening, prepare the herbs and garlic.
Slide the veggies out of the oven, and sprinkle the crushed garlic, sage leaves, and thyme sprigs over the mixture. Roast for about 30-35 more minutes, until vegetables are fork tender.
<h6>Soup</h6>If making soup, add the stock to a soup pot and bring to a boil. Simmer until the vegetables are finished roasting. If making the pasta, bring a pot of water to a boil, add the rigatoni, and cook according to package directions. Drain, place in a bowl, and swirl in one more Tbsp. olive oil to prevent sticking.
Once the vegetables are done, remove from the oven and throw away the thyme sprigs. Place vegetables in a large bowl. Combine with drained pasta. Add in 1 cup of goat cheese and 1/2 cup parsley and toss to combine.
Scrape roasted vegetables into the heated stock. Simmer for 10 minutes. Turn off heat, then using an immersion blender, process vegetables, and stock until smooth. Add salt and pepper to taste. To serve the soup, drizzle with aged balsamic vinegar, sprinkle with chopped parsley and add a dollop of goat cheese. Enjoy!