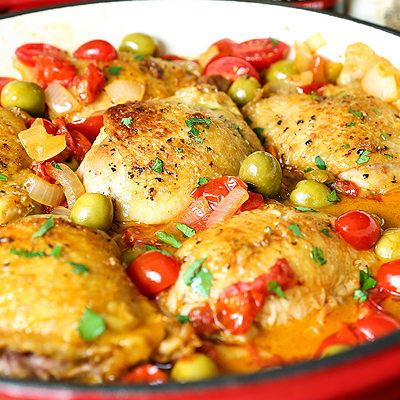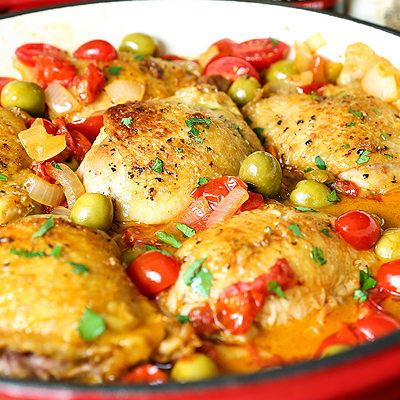 Ingredients
6 chicken thighs (2-3 pounds), skin-on bone-in
1-2 teaspoons kosher salt
1/2-1 teaspoon fresh ground black pepper
2 tablespoons STAR Extra Virgin Olive Oil
1 medium yellow onion, chopped
3 garlic cloves, minced
2 cups grape tomatoes, halved
1 (7 oz) jar STAR Pimiento Stuffed Manzanilla Olives, drained
1 cup chardonnay white wine
Instructions
Use 1 teaspoon salt and 1/2 teaspoon pepper to sprinkle both sides of the chicken. Warm a high sided large skillet over medium-high heat. Once you hold your hand 6 inches from the skillet and feel the heat, add the olive oil. Then, place the seasoned chicken in the pan skin side down. Cook until golden brown, then flip to brown the other side, about 4-5 minutes for each side. Remove chicken and place in your upside down pot lid or on a plate.
Reduce heat to medium. Add garlic and onion. Cook until onions soften, about 3 minutes. Add olives, wine and 1 cup of tomatoes. Stir to combine and scrape the bottom of the pan to remove the browned bits. Cook until liquid has reduced about half, approximately 4 minutes.
Taste sauce. Add salt and pepper to taste (or about 1/2 teaspoon salt and pepper).
Add chicken (skin side up) to skillet. Cook for 10 minutes longer, until the chicken is cooked through to the bone.
If preferred, you can place skillet under broiler to crisp the chicken skin. Add remaining tomatoes. Stir and serve.
NOTES: You can substitute chicken stock or white grape juice for the wine.