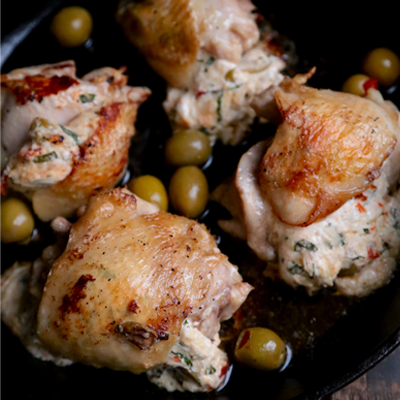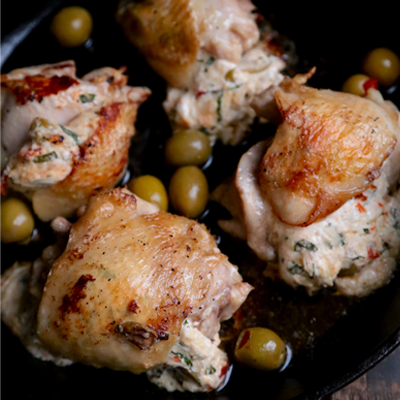 Ingredients
4 chicken thighs – bone-in and skin-on
4 ounces cream cheese, softened and cubed
2 tbsp Parmesan cheese
1 clove garlic, minced
5 large leaves basil, chopped
¼ tsp red pepper flakes
Dash of smoked paprika
Salt and pepper
2-3 tbsp STAR Extra Virgin Olive Oil
Instructions
Preheat oven to 350 degrees. Remove chicken thighs from the fridge and allow to rest at room temperature shortly.
In a small food processor, add in the STAR Hot Pepper Stuffed Green Olives, cream cheese, Parmesan cheese, garlic, basil, red pepper flakes and smoked paprika. Pulse until the ingredients are all just combined, but the mixture is not smooth. Set aside.
Pat chicken thighs dry, and season both sides of each thigh with salt and pepper.
Heat an oven-proof skillet. Add in STAR Extra Virgin Olive Oil, and swirl around pan, oil should appear to be shimmering.
Gently stuff a few tablespoons of hot pepper olive mixture under the skin of each chicken thigh.
Place each chicken thigh, skin side down into the hot pan and simmer until the skin turns golden brown, about 3 minutes. Gently flip each chicken thigh over, and continue to fry on the other side another 3 minutes. Place skillet into the oven and bake for 15-20 minutes, or until the chicken thighs register 165 degrees.
Allow chicken to rest for 5 minutes before serving.