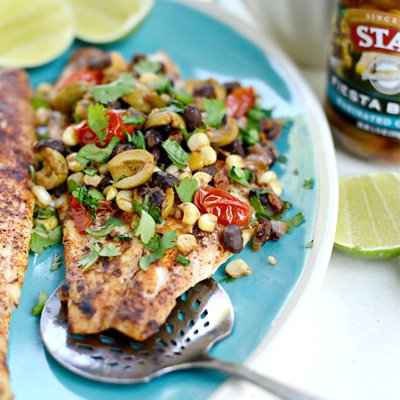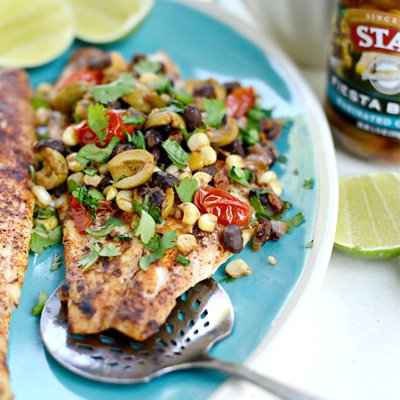 Ingredients
For the Olive Topping:
1 teaspoon STAR Extra Virgin Olive Oil
2 cloves fresh garlic, finely chopped
½ cup diced red onion
1-1/2 cups cherry tomato halves
1 (15 ounce) can black beans, rinsed and drained
3/4 cup sweet yellow corn, thawed if frozen
1 (5.75 ounce) jar STAR Flavor Destinations: Southwestern (Fiesta Blend) Marinated Olives, drained and sliced in half
½ teaspoon ground cumin
1 to 2 tablespoons minced fresh cilantro, plus more for serving
Kosher salt, to taste


For the Red Snapper:
4 large red snapper fillets
Pinch of kosher salt
Pinch of cumin
Pinch of chili powder
Pinch of smoked paprika
Instructions
Heat a tablespoon of olive oil in a large, non-stick skillet over medium-low heat.
Add garlic and sauté for 1 to 2 minutes or until fragrant. Add in onions and cook until soft and translucent, about 5 minutes.
Increase the heat to medium and add in the tomatoes. Stir and cook until the tomatoes burst and the skin softens.
Add in the black beans, corn and olives. Season with ½ teaspoon of cumin and the cilantro. Taste and season with salt if desired.
Keep topping warm on low heat.
Meanwhile, oil the grates of your grill and preheat it to medium high heat.
Brush both sides of the snapper with the extra light olive oil and season (both sides) by sprinkling with pinches of kosher salt, cumin, chili powder and smoked paprika. Use your fingers to pat the spices onto the fish.
Once the grill is hot, place the fish onto the grate and grill for 4 to 5 minutes before flipping and grilling until the fish is fully cooked and flakes easily.
Serve the grilled snapper with a spoonful or two of the olive topping over top. Squeeze fresh lime juice and sprinkle with extra cilantro over top.