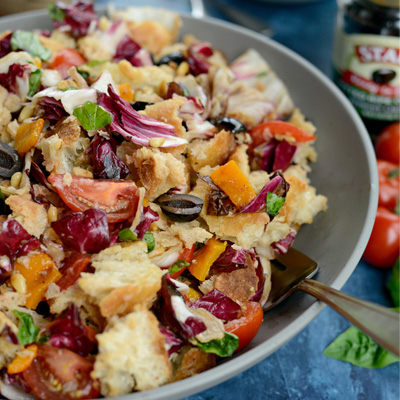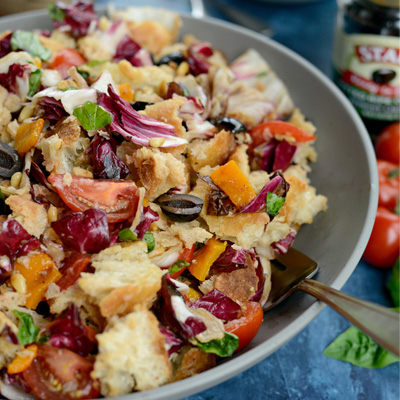 Ingredients
1 pound compari tomatoes, quartered
Kosher salt
1 large orange bell pepper
2 heads of radicchio, quartered keeping the stem in tact
1 (20 ounce) loaf of ciabatta bread, torn into bite-size chunks
1 teaspoon Dijon mustard
½ clove of garlic, grated
2 tablespoons STAR Red Wine Vinegar
2 tablespoons STAR Extra Virgin Olive Oil
1 pinch sugar
1 pinch black pepper
1 (5.3 ounce) jar (or about 1 cup) STAR Pitted Ripe Olives Without Liquid, halved
1 handful fresh basil leaves
½ cup pine nuts, pan toasted
Instructions
Place tomatoes into a fine mesh strainer set into a medium bowl. Toss with 1 teaspoon kosher salt and set off to the side. The salt will draw out the juice from the tomatoes and collect in the bowl below.
Lightly brush the bell pepper and all sides of the radicchio with extra light olive oil. Place radicchio onto grill that is preheated on medium heat. Grill for 2 to 3 minutes per side or until grill marks appear. Transfer grilled radicchio to a cutting board. Once cool cut off the root and chop into bite-size pieces
Increase the heat of your grill to medium-high. Place bell pepper onto grates, close the lid and grill, turning so the entire outer skin is charred. Transfer the charred pepper to a small bowl, cover with plastic wrap and set off to the side for 10 minutes. Then remove the skin and seeds from the pepper and chop into bite-size pieces.
Meanwhile preheat your oven to 400 degrees. Place the torn pieces of bread onto 2 large, rimmed baking sheets. Drizzle with extra light olive oil. Bake for 8 -10 minutes or until toasted and lightly golden brown. Set off to the side to cool.
Once there is ¼ cup of tomato juice collected in the bowl, transfer the tomatoes to a large bowl.
To the tomato juice add in 1 teaspoon Dijon, 2 tablespoons red wine vinegar and the grated garlic. Whisk while slowly pouring in the 2 tablespoons of extra virgin olive oil. Season with a pinch of sugar, kosher salt and black pepper. Set off to the side. Dressing should make ½ cup.
To the bowl with the tomatoes, add the black olives, bell pepper, chopped radicchio and ciabatta. Toss to combine. Tear the fresh basil leaves by hand and sprinkle over salad. Add in the toasted pine nuts and drizzle in all of the dressing. Toss to combine and serve immediately.