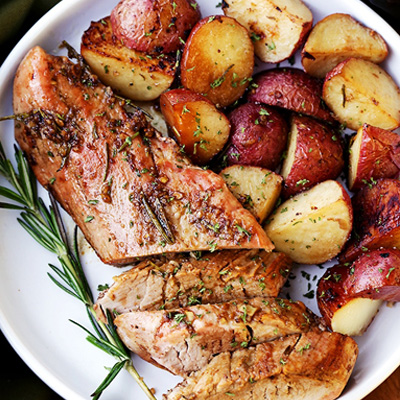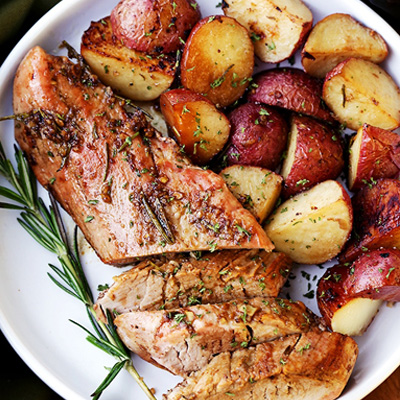 Ingredients
2 pounds boneless pork loin
3 tablespoons STAR Balsamic Vinegar of Modena (Gold Edition)
10 garlic cloves, smashed
½-cup fresh rosemary leaves
Salt and fresh ground pepper, to taste
2 pounds small red potatoes, washed and quartered
Instructions
Lightly grease a roasting pan with cooking spray; place pork loin in roasting pan and set aside.
In a food processor, combine olive oil, balsamic vinegar, garlic cloves, rosemary leaves, salt and pepper; process for 2 to 3 minutes, or until thickened, and the consistency is that of a wet paste. Spread ¾ of the rub on all sides of the meat.
Place in oven and cook for 15 minutes.
In the meantime, prepare the potatoes by combining them with the remaining of the rub.
Remove roasting pan from oven; reduce oven to 350F. Place prepared potatoes around the meat. Put back in the oven and continue to cook for 50 minutes, or until done. Pork is done cooking when internal temperature is between 145F and 160F.
Remove from oven and let stand 10 minutes. Transfer roast to a cutting board; slice and serve with potatoes.
Recipe developed by: http://www.diethood.com
Prep Time: 15 mins
Cook Time: 1 hr
Total Time: 1hr 15mins
Serves: 8-10