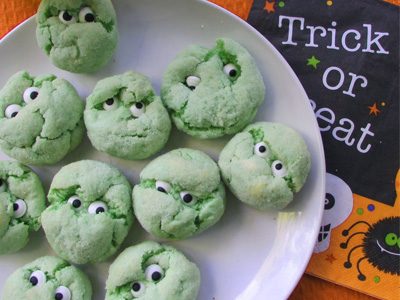 These cookies are so chewy and delicious and so much fun for Halloween!  When baking with STAR Extra Light Olive Oil make sure you use our conversion cart.
Ingredients
1 box of yellow cake mix
1/4 cup + 2 tsp STAR Extra Light Olive Oil
1/2 tsp. vanilla
8 oz. cream cheese, softened
1 egg
Green food coloring
Granulated sugar
Candy eyeballs
Directions:
Beat STAR Extra Light Olive Oil, vanilla, egg and cream cheese until fluffy.
Mix in cake mix. Add green food coloring until it's the color you want. Chill for 30 minutes.
Roll into balls in a bowl of sugar. Place on a prepared cookie sheet.
Bake at 350F for 10-12 minutes.
While warm push eyeballs into the center or all over the cookie.
Transfer cookies to wire racks to cool completely.
Comments
Leave a Comment
You must be logged in to post a comment.