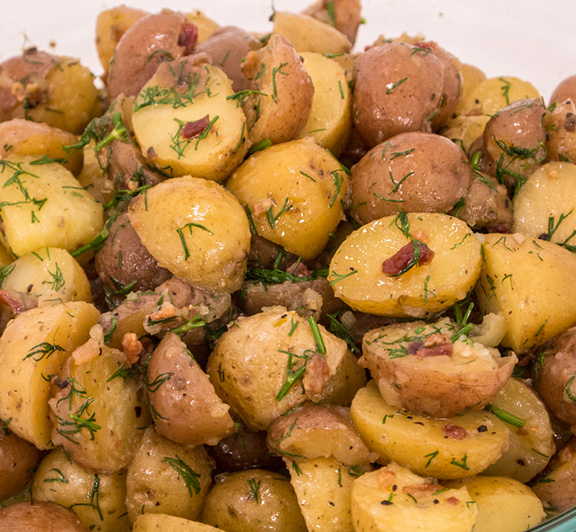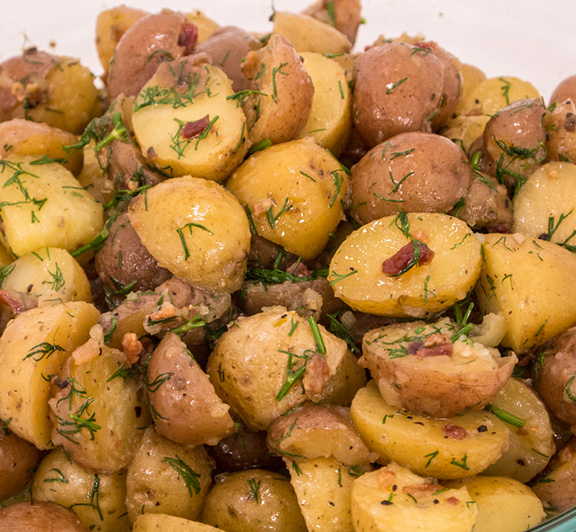 Ingredients
1 Pound red new potatoes
1 Pound baby yellow potatoes
1/2 cup STAR Extra Light Olive Oil
1/4 cup water
1 tsp. kosher salt
1/2 tsp. fresh ground black pepper
1/3 cup fresh chopped dill (do not pack)
1 tsp. bacon bits
Instructions
Wash all the potatoes and set aside to drain. In a medium pot, add Olive Oil, water, salt, and pepper.
Stir and place over a medium heat to warm the oil mixture. Slice all the potatoes in half lengthwise. Add to pot, stir well, cover and set on low heat to slowly cook.
After about 30 minutes, check the potatoes for doneness. Depending upon the size and freshness of the potatoes, they will need to cook for 30-50 minutes until done. Shake the pot to mix occasionally, but do not remove the lid.
Remove from heat when cooked. Add dill and bacon bits while gently stirring.
Place on a serving plate and drizzle the remaining oil from the pot over top. Serve immediately.
Prep Time: 5 mins
Cook Time: 40 mins
Total Time: 45 mins
Serves: 8