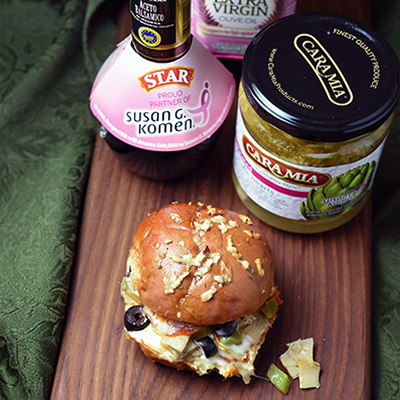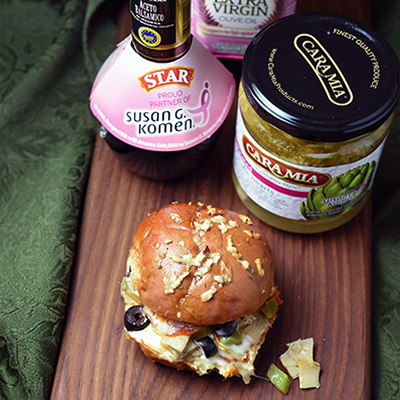 Ingredients
12 (3-inch) sandwich rolls, split in half
1 cup marinara sauce, divided
14.75 oz. jar Cara Mia Marinated Artichoke Hearts, drained and chopped
1 small green bell pepper, seeded and diced
4 ounces sliced pepperoni
1 can (2.25) sliced black olives, drained
2 cups shredded mozzarella cheese
1/2 cup grated Parmesan cheese
3 tablespoons STAR Extra Virgin Olive Oil
2 teaspoons STAR Balsamic Vinegar
2 tablespoon unsalted butter, melted
1 clove garlic, minced
1 teaspoon dried oregano
1/4 teaspoon cracked red pepper flakes
Instructions
Preheat oven to 350 degrees F.
Place bottoms of the rolls in a 9×13 baking dish; spread with half of the marinara sauce. Top with artichoke hearts, bell pepper, pepperoni, olives, and shredded cheese. Spread the remaining marinara sauce on the cut side of each roll top; place on top of each slider.
Whisk together the grated Parmesan, olive oil, vinegar, butter, garlic, oregano, and red pepper flakes. Drizzle over the sliders.
Cover baking dish with aluminum foil; bake for 30 minutes until cheese is melted and sliders are warmed through.
Recipe developed by: http://www.bellyfull.net
Prep Time: 20 mins
Cook Time: 30 mins
Total Time: 50 mins
Serves: 12 sliders