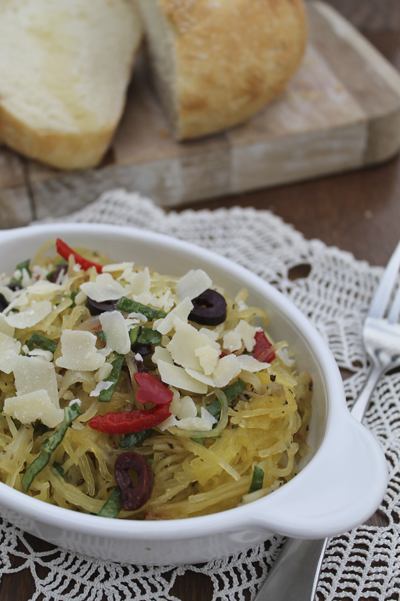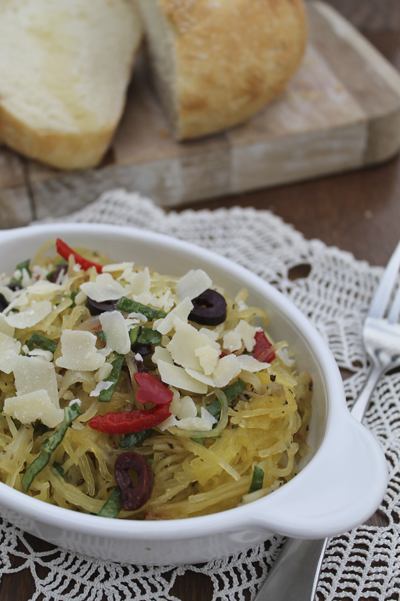 Ingredients
1 medium to large spaghetti squash
3 Tbsp. STAR Extra Light Olive Oil
1 medium Onion, sliced thin
2 large cloves garlic, quartered
1 tsp. basil
1 cup fresh spinach, sliced into thin ribbons
1/3 cup kalamata olives, sliced
8 spicy/sweet red piquante peppers, sliced into thin strips
Freshly grated parmigiano reggiano, to taste
Salt and pepper to taste
Instructions
Preheat oven to 350 degrees.
Wash spaghetti squash, cut in half and scrape out seeds. Lay halves, cut side down, in a baking sheet filled with ½ cup water. Bake at 350 degrees for about 25–30 minutes or until fork-tender.
While squash is cooking, line a small baking dish with foil. Add onions, garlic, basil and Olive Oil; toss. Cover with foil and put into oven with squash.
When squash is done, pull it out of the oven along with the onion/garlic mixture, which should also be nicely roasted by this time. Using a fork, scrape the insides of the squash to release all the strands into a large bowl.
Toss spinach in with hot squash so it can wilt. With a fork, mash garlic pieces, then add entire onion/garlic mixture to bowl, including oil. Finally, add olives and red peppers to bowl.
Toss all ingredients together until well combined. Top with Parmigiano-Reggiano. Serve warm with crusty bread and enjoy!