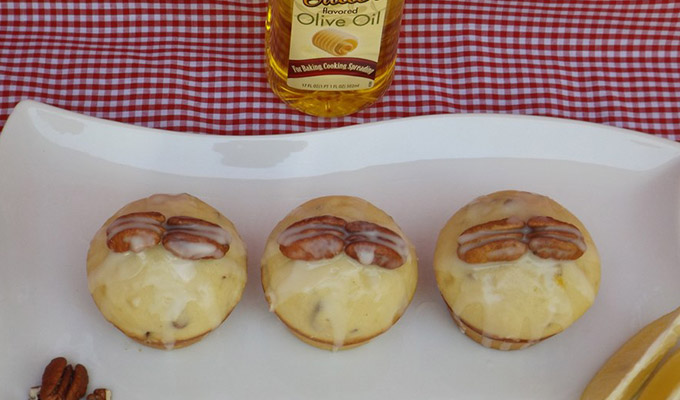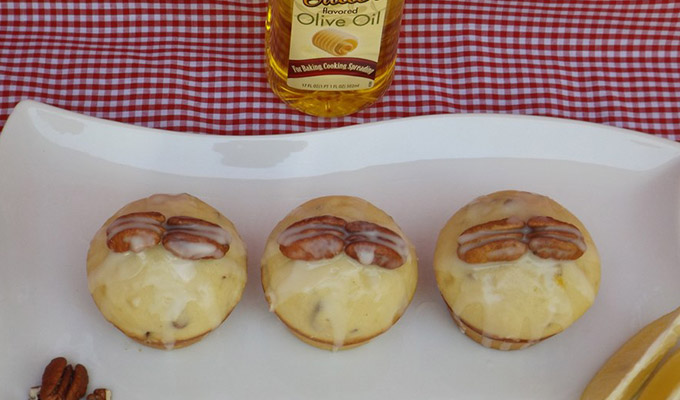 Ingredients
For Muffins

3 cups all-purpose flour
1 cup sugar
2 ½ tsp. baking powder
½ tsp. salt
2 large eggs
1 ½ cups whole milk
¼ cup + 2 Tbsp. STAR Extra Light Olive Oil
1 ½ Tbsp. lemon zest
2/3 cup chopped pecans
Pecan halves for garnish

For Glaze

1 ½ cup powdered sugar, sifted
3 Tbsp. lemon juice
Instructions
Preheat oven to 350 degrees. Lightly grease muffin pan.
Mix the flour, sugar, baking powder and salt in a large bowl. In another bowl, whisk together eggs, milk, olive oil, and lemon zest.
Stir wet ingredients into dry ingredients and stir until moistened. Stir in pecans.
Spoon into the muffin pans, filling each cup about two-thirds full. Bake for 25 to 30 minutes until golden.
Remove pan from oven, cool on wire rack for 10 minutes. Remove muffins from pan and cool on wire rack.
Prep Time: 10 mins
Cook Time: 45 mins
Total Time: 55 mins.
Serves: 14
Related Recipes
Time: 1 hr 30 mins

Serves: 4