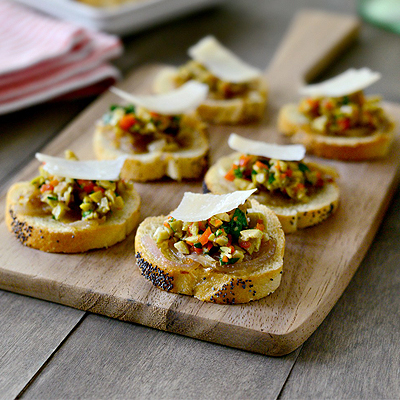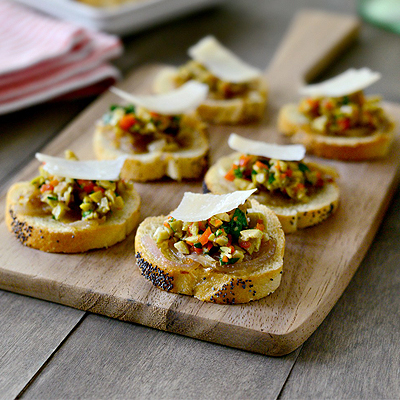 Ingredients
1 large sweet onion, halved and sliced thin
1 large red onion, halved and sliced thin
1 Tbsp.. butter
Kosher salt
2 cloves garlic, minced
1 7 oz. jar STAR Pimiento Stuffed Manzanilla olives, drained and minced
1/4 cup chopped fresh parsley
1/4 tsp. coarse black pepper
1 Tbsp. fresh squeezed lemon juice
1/2 cup STAR Extra Virgin Olive Oil, divided
Parmesan Reggiano
1 medium French baguette, sliced (about 30 slices)
Instructions
In a large skillet, melt a Tbsp. of butter along with two Tbsp. of olive oil over medium-low heat. Add in the sliced onions, a couple pinches of kosher salt and toss to coat in the butter and olive oil. Cover and cook for 10 minutes undisturbed. Remove the lid, stir and cook uncovered for 20-30 more minutes or until the onions are a deep golden color. Add in the minced garlic, cook for 2-3 minutes. Remove and set off to the side.
In a medium bowl, add the minced olives, parsley and coarse black pepper. Squeeze in a Tbsp. of fresh lemon juice and pour in 1/4 cup of olive oil. Stir to combine.
Preheat your oven to 400 degrees and arrange the sliced baguette onto a rimmed sheet pan. With the remaining two Tbsp. of olive oil, brush the baguette slices. Pop the sheet pan into the oven and let the bread lightly toast for 8-10 minutes. Check on them often to avoid burning.
Top the toasted crostini with a 1/2 tsp. of the garlic caramelized onions and spread them with the back of the spoon. Top with a tsp. of the olive tapenade and a shaving of Parmesan Reggiano.