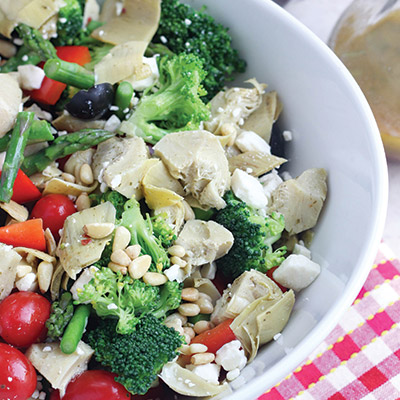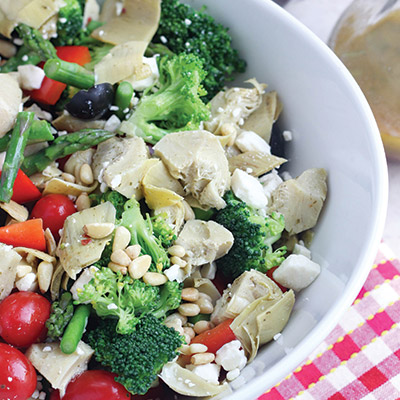 Ingredients
Greek vinaigrette:

1/3 cup STAR Extra Virgin Olive Oil
1/4 cup STAR Red Wine Vinegar
1 clove garlic, minced
1 Tbsp. sugar
1 Tbsp. fresh oregano, chopped
1/2 tsp. ground mustard
1/4 tsp. salt
1/4 tsp. black pepper

Vegetables:

1 1/2 pounds broccoli florets cut into bite-sized pieces
1/2 pound asparagus, trimmed and cut into bite-sized pieces
1 red bell pepper, cut into small pieces
1 jar (14.75 oz.) Cara Mia® Marinated Artichoke Hearts, drained & roughly chopped
1 can (5.75 oz.) black olives, halved
6 oz. grape tomatoes
4 oz. feta cheese crumbles
1/4 cup toasted pine nuts
Instructions
Combine all dressing ingredients in a dressing cruet or jar with a lid and mix well. Adjust salt, pepper and sugar to taste. Set aside.
Bring about 3 cups of water to a simmer in a shallow pan. Add the broccoli and asparagus and cook for 60-90 seconds, just until crisp-tender. Drain and move to an ice bath to stop the cooking. After about 5 minutes, drain from the ice bath and transfer to a large bowl.
Stir in the bell pepper, artichoke hearts, olives, and tomatoes. Stir well until the vegetables are evenly distributed. Add in the feta cheese and stir well.
Pour about half of the dressing on and stir well, to distribute the dressing, repeat. Cover the salad and refrigerate for at least 30 minutes.
Stir in the pine nuts just before serving.