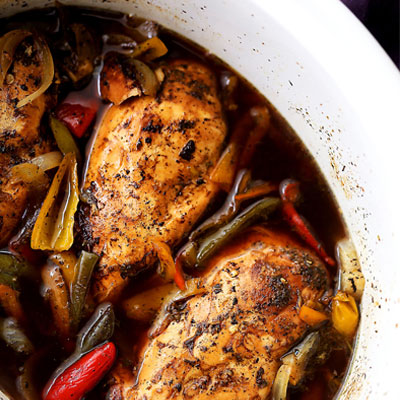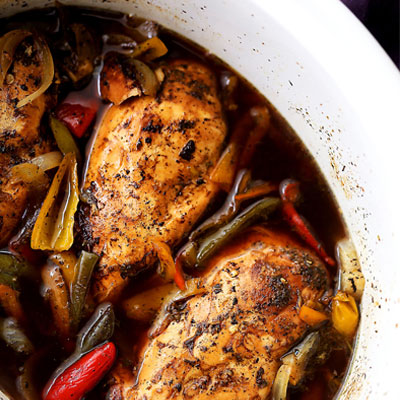 Ingredients
1 tablespoon STAR Original Olive Oil
3 garlic cloves minced
2 pounds skinless, boneless chicken breasts
Salt and fresh ground pepper, to taste
1 large yellow onion, sliced
1 red bell pepper, thinly sliced
1 green bell pepper, thinly sliced
1 teaspoon Italian seasoning
Instructions
Grease the sides and bottom of the crock pot with olive oil; sprinkle minced garlic over it. Season chicken breasts with salt and pepper.
Add chicken to the crock pot and arrange it in one single layer. Pour vinegar over chicken. Top with sliced vegetables and Italian Seasoning.
Cover and cook on HIGH for 3 to 4 hours, or on LOW for 5 to 6 hours.
Remove cover and transfer chicken breasts to a cutting board; using two forks, shred the chicken.* Stir the shredded chicken back into the crock pot. Taste for seasonings and adjust accordingly.
Serve.
*You can serve this with flour tortillas, sandwich bread, burger buns, or over pasta. You can also serve it as is.
*Place leftovers in a container and cover with a lid; refrigerate for 3 to 5 days.