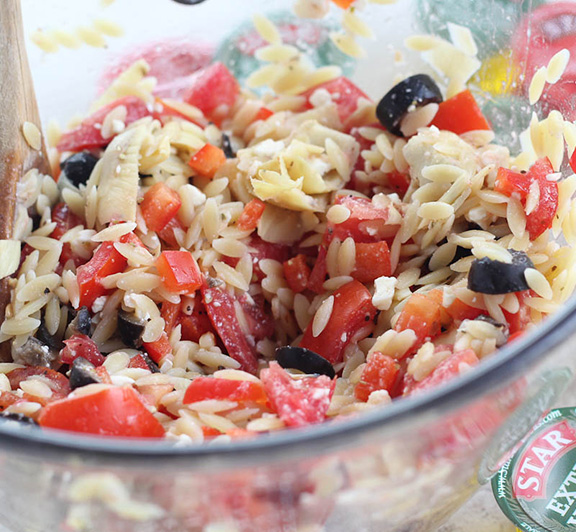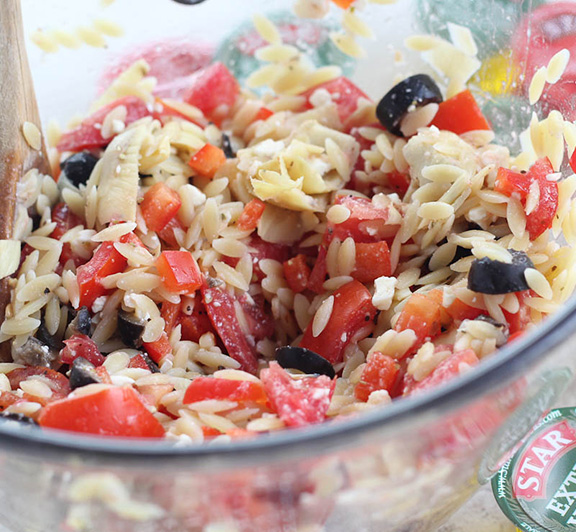 Ingredients
1/2 cup uncooked orzo pasta
1 large tomato, diced (about 1 cup)
1 red bell pepper, diced (about 1/2 cup)
1 can (2-ounce) sliced black olives, drained
1/4 cup chopped artichoke hearts
1/4 cup feta cheese
2 tsp. dried oregano
1 tsp. garlic powder
1/2 tsp. salt
1/2 tsp. black pepper
2 Tbsp. toasted pine nuts
1/3 cup STAR Red Wine Vinegar
1/3 cup STAR Extra Virgin Olive Oil
Instructions
Cook the orzo according to package directions.
Combine the tomato, bell pepper, olives, artichoke hearts, feta cheese, oregano, garlic powder, salt and pepper in a large bowl and stir to combine. When the orzo is al dente, drain and add to the mixed veggies. Taste and adjust the salt and pepper to taste.
Divide the salad evenly among four separate jars or other food containers. Refrigerate for up to one week.
When ready to eat, combine red wine vinegar with olive oil and dress the salads. Top with the pine nuts and adjust the seasonings if necessary.