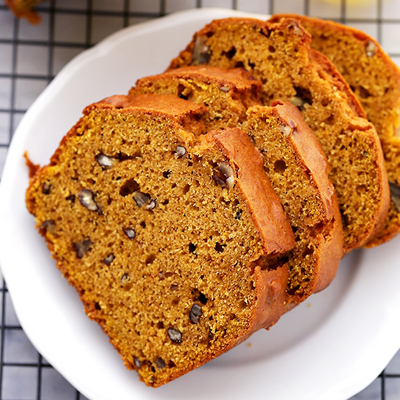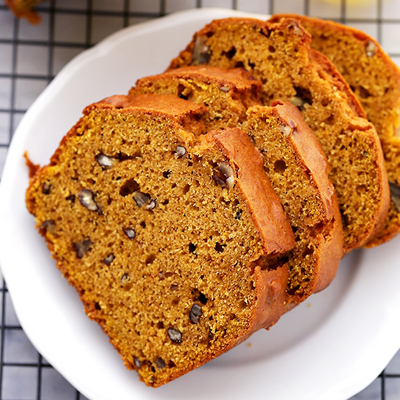 Ingredients
1-1/2 cups all-purpose flour
½ teaspoon baking soda
¼ teaspoon baking powder
¼ teaspoon salt
½ teaspoon pumpkin pie spice
½ teaspoon ground cinnamon
¼ teaspoon ground nutmeg
1 cup sugar
2 large eggs
1 cup canned pumpkin puree
1 teaspoon pure vanilla extract
½ cup chopped pecans
Instructions
Preheat oven to 350F degrees.
Grease a 9-inch loaf pan with baking spray and set aside.
Place flour, baking soda, baking powder, salt and spices in a large mixing bowl; whisk until well combined. Set aside.
In a separate mixing bowl, whisk together sugar and olive oil; whisk until well blended.
Add eggs, pumpkin and vanilla; whisk until thoroughly incorporated.
Add the pumpkin mixture to the flour mixture and, using a wooden spoon, stir until combined. Stir in the pecans and let batter stand 15 minutes.
Pour the batter into the previously prepared loaf pan.
Bake for 1 hour and 10 minutes, or until a toothpick inserted into the center of the loaf comes out clean.
Remove from oven and transfer to a cooling rack.
Cool in pan for ten minutes; turn the bread out onto a rack and cool completely.
Notes: Storage & freezing – Cool the quick bread completely before wrapping and freezing. To freeze, wrap securely in aluminum foil and place in freezer bags.
Recipe developed by: http://www.diethood.com
Prep Time: 20 mins
Cook Time: 1 hr 10 mins
Total Time: 1hr 30 mins
Serves: 8