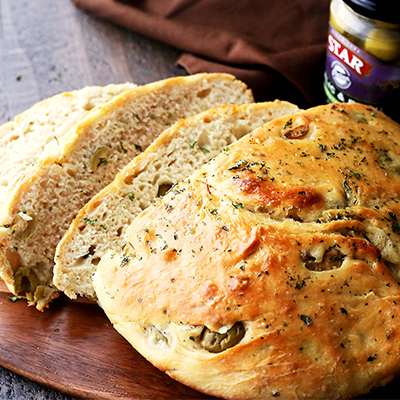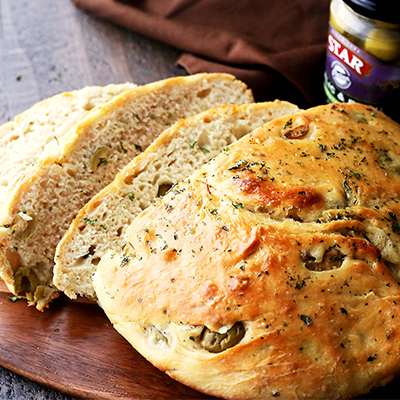 Ingredients
Instructions
In a large mixing bowl, combine water and yeast.
Add 1 cup of flour and salt; stir with a wooden spoon until combined. Stir in olives, herbs, garlic and garlic powder. Add remaining flour, one cup at a time, stirring until thoroughly combined.
Cover with plastic wrap and set in a warm spot to rise for 1 hour.
Add a tablespoon of olive oil in an 8-inch cast iron skillet; using a napkin or your fingers, coat bottom and sides of skillet with the olive oil.
Flour your hands; remove plastic wrap and using your hands, transfer dough to prepared skillet and shape into a disk.**
Cover with a kitchen towel and let stand for 30 minutes.
Preheat oven to 400 Fahrenheit.
Drizzle remaining olive oil over the top and sprinkle with salt and parsley. Score the top of the loaf with a knife.
Bake for 30 to 35 minutes, or until top is nicely browned.
Remove from oven and turn the bread out onto a wire cooling rack.*** Leave to cool.
Notes: 

*The olives sit in a liquid with garlic and herbs; when draining, please try to reserve as much of the herbs and garlic as possible.

**If you do not have an iron skillet, you can use a stoneware baking dish, instead.

***It is important to remove bread from pan as soon as it comes out of the oven because bread left in the pan will get moist and soggy.
Recipe developed by: http://www.diethood.com
Prep Time: 1 hr 30 mins
Cook Time: 30 mins
Total Time: 2 hrs
Serves: 10