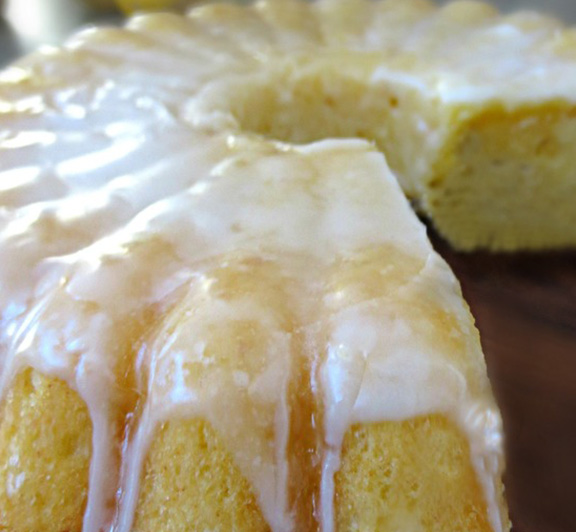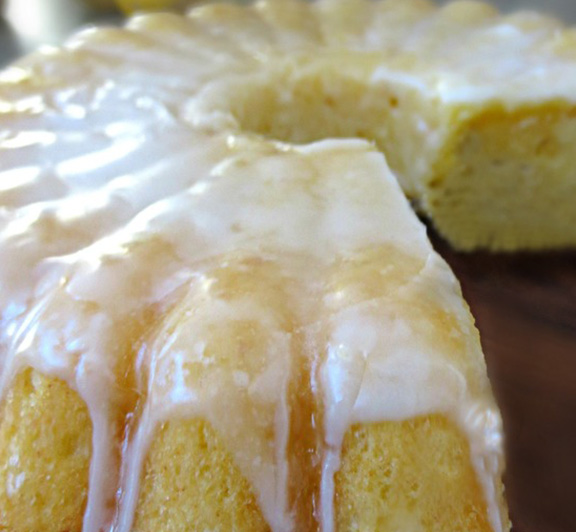 Ingredients
For the Cake:
1 cup cake flour
1 tsp. baking powder
1/2 tsp. kosher salt
2 large eggs ( yolks and whites separated)
1/2 cup granulated sugar
1/3 + 1/4 cup (separated) STAR Extra Light Olive Oil, plus more for greasing pan.
1 1/2 Tbsp. whole milk
1 cup of ricotta cheese (drained) (or, may substitute Greek yogurt)
Finely grated zest of 3 organic lemons (medium sized)

For the Lemon Glaze:
1 cup of confectioner's sugar
1 1/2 Tbsp. of fresh lemon juice
Zest of one lemon
1/2 tsp. of fine kosher salt
1 Tbsp. of STAR Extra Light Olive Oil
Instructions
Preheat the oven to 325F. Using Olive Oil, grease the bottom and sides of a 8 1/2 x 4 1/2 loaf pan, or round bundt pan.
In a bowl, sift together the flour, baking powder, and salt.
In the bowl of an electric mixer, combine the egg yolks, granulated sugar, and lemon zest. Beat on medium speed until the mixture thickens, is pale yellow, and forms ribbons when the whisk is lifted for 3-4 minutes. Allow it to sit. Once done, in a separate bowl, beat (or, whisk) the egg white to stiff peaks. Set aside.
Meanwhile, in another bowl, whisk together 1/3 cup of Olive Oil, milk, ricotta cheese, and lemon juice. Slowly drizzle in the oil mixture with the mixture that is in the electric mixer (with the machine running). Reduce the speed to low, add the flour mixture, and mix just to combine. Drizzle in remaining 1/4 cup of Olive Oil, and mix to combine. Remove the mixing bowl from the stand mixer and fold in the stiff egg whites.
Pour the batter into the prepared an 8 1/2 x 4 1/2 baking pan, or bundt pan. Bake, rotating the pan once after 25 minutes, until the top of the cake is golden, the center bounces back when touched, and a cake tester inserted in the center comes out clean (about 45 minutes). Unmold the cake from the pan and let it cool completely on a wire rack.
While still warm, prepare the glaze. Combine the lemon juice with 1 Tbsp. of Olive Oil, lemon zest, salt, and powdered sugar until completely combined, without lumps. You may need to adjust the consistency a bit to your liking. (I like it kind of thick.) Pour over the pound cake and let it dry. (at least a 1/2 hour if you want it dry and not too tacky to the touch)
Prep Time: 15 mins
Cook Time: 45 mins
Total Time: 1 hour
Serves: 8
Related Recipes