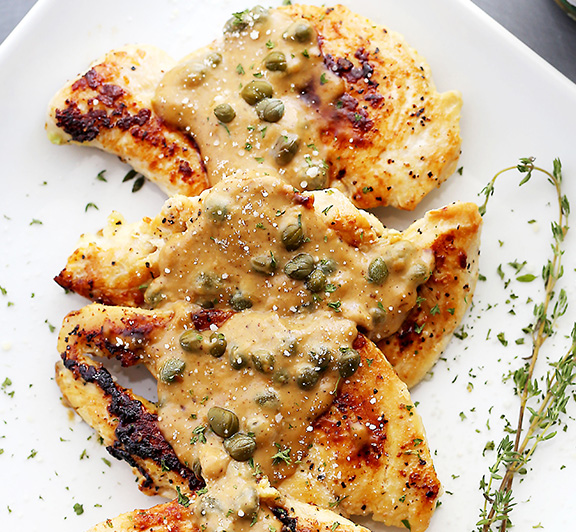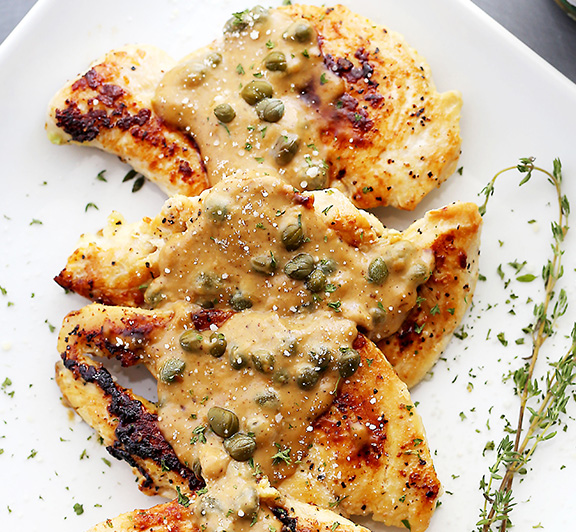 Ingredients
4 boneless, skinless chicken breasts
1 teaspoon lemon-pepper seasoning
salt, to taste (optional)
1 tablespoon STAR Original Olive Oil
1 tablespoon butter
3 garlic cloves, minced
1 cup 2% milk
2 teaspoons cornstarch
½ teaspoon fresh thyme leaves
2 tablespoons STAR Capers, drained
Instructions
Lightly pound chicken breasts to an even thickness. DO NOT POUND THIN.
Season chicken with lemon-pepper seasoning and salt, if using; set aside.
Heat olive oil and butter in a nonstick skillet over medium heat.
Add garlic and cook for 30 seconds, or until fragrant.
Add chicken and continue to cook for 10 to 12 minutes, or until cooked thoroughly, turning once during cooking.
Transfer chicken to a plate and keep covered.
In a mixing bowl, combine milk and cornstarch; whisk until incorporated.
Pour milk mixture into the skillet and whisk, scraping up the bits on the bottom of the skillet; continue to whisk until thickened and bubbly, about 1 to 2 minutes.
Remove from heat and stir in capers.
Taste for seasonings and adjust accordingly.
Related Recipes
Time: 30 minutes

Serves: 4

Time: 4 hrs 5 mins

Serves: 6