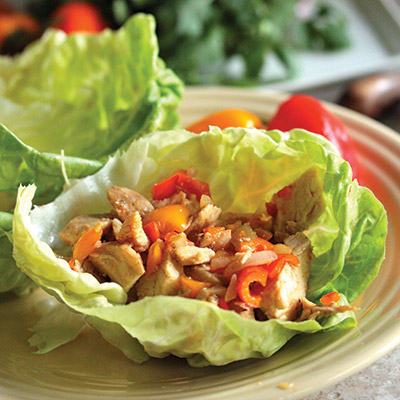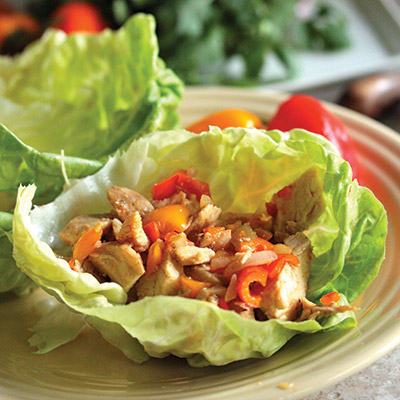 Ingredients
2-3 chicken breasts, boneless and skinless
1/2 cup + 2 Tbsp. STAR Original Olive Oil (mix to taste with soy sauce and ginger)
2 Tbsp. szechuan sauce
1 Tbsp. garlic
½ tsp. red pepper flakes
1 tsp. lime zest
1/2 tsp. ginger root, minced
2 Tbsp. STAR Rice Vinegar
½ cup water chestnuts, diced
1 bell pepper, diced
1 cup sweet onion, finely chopped
1 green onion, sliced on the bias
2 heads bibb lettuce
Instructions
In a gallon sized Ziploc bag, add ½ cup STAR Original Olive Oil, Szechuan Sauce, garlic, red pepper flakes, lime zest, ginger root and rice vinegar. Place chicken breasts into the Ziploc bag, seal and gingerly "smoosh" and coat the chicken evenly with marinade. Place in fridge and let marinade for 45 minutes to an hour.
Preheat grill or oven to 375 degrees. Grill or bake until chicken has reached 160 degrees on the thermometer, between 15-30 minutes depending on cooking method.
Let chicken rest on a plate, and tented with aluminum foil for ten minutes. Dice chicken into bite size pieces after it has rested.
In a non-stick skillet, heat up 2 Tbsp. STAR Original Olive Oil, add in water chestnuts, bell pepper, onion and green onion to the skillet and sauté until onion and pepper have softened. Add in diced chicken and mix together.
Serve in Bibb lettuces leaves while warm.
Related Recipes
Time: 15 minutes

Serves: 6-8

Time: 15 mins

Serves: 4-8