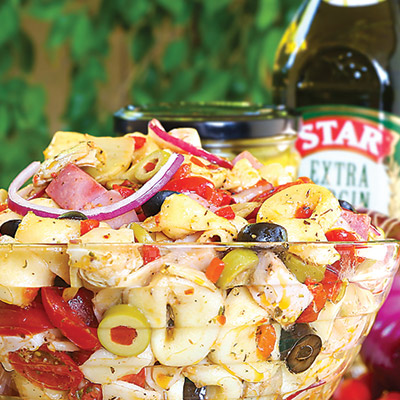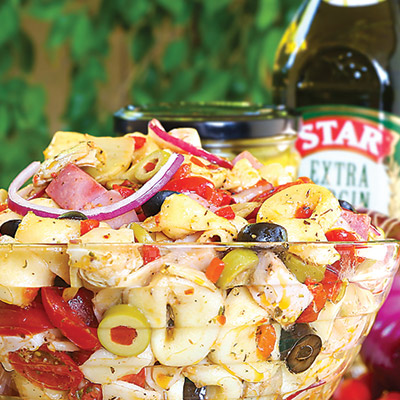 Ingredients
19 ounces frozen tortellini
4 ounces Genoa salami, cut into 1/4-1/2" cubes
4 ounces smoked turkey, cut into 1/4-1/2" cubes
4 ounces honey baked ham, cut into 1/4-1/2" cubes
4 ounces Asiago cheese, cut into 1/4-1/2" cubes
8 ounces grape tomatoes, halved
1/4 medium red onion, sliced thin
1 cup (4 ounces) Cara Mia Marinated Artichoke Hearts, chopped
1/4 cup STAR Spanish Ripe Medium Pitted Olives, sliced
1/4 cup STAR Pimiento Stuffed Manzanilla Olives, sliced

Zesty Italian Dressing

3 cloves garlic, minced
2 strips Cara Mia Piquillo Peppers, finely minced
3 red onion slices, finely minced
6 STAR Pimiento Stuffed Manzanilla Olives, finely minced
1 tablespoon dried Italian seasoning
1/2 teaspoon fresh ground black pepper
1/4 teaspoon red pepper flakes
1/4 cup STAR Red Wine Vinegar
1/4 cup STAR Extra Virgin Olive Oil
Instructions
Prepare the dressing: In a large bowl combine dressing ingredients. Whisk until well combined. Set aside.
Bring a large pot of water to a boil over medium-high heat. Cook tortellini according to package directions. Remove from heat and drain pasta. Pour tortellini into dressing and toss to combine. The tortellini will soak up some of the dressing and give it an amazing flavor.
While the pasta is cooking, prepare deli meats and cheeses: cut meats and cheese into bite size pieces, approximately 1/4-1/2" in size.
Reserve cheese until pasta is completely prepared (or it may melt from the heat of the pasta). Add cut up meat to tortellini and gently stir until well combined. Toss in tomatoes, onion, artichoke hearts and olives. Add cheese. Stir to combine.
Refrigerate until ready to serve (up to overnight)