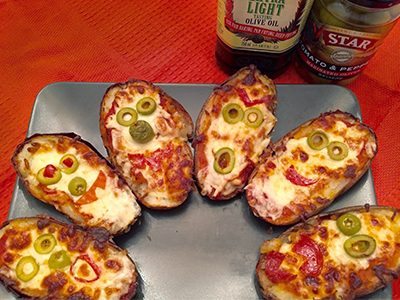 Make fun and spooky pizza potato skins for a festive Halloween meal or appetizer. These are fun to decorate as goblins, witches, princesses and superheros.
Ingredients
Directions
Preheat oven to 400°. Line a baking sheet with foil.
Place potatoes on lined baking sheet and bake for 40 minutes, or until softened. Remove from oven and let cool.
Cut each potato in half, lengthwise. Scoop out flesh, leaving about ¼-inch of potato on skin (reserve potato flesh for another use, like mashed potatoes).
Brush skin-side of potato with STAR Extra Light Olive Oil, and place face down on baking sheet.
Bake for 10 minutes, or until slightly golden.
Fill each skin with pasta sauce, sprinkle with cheese and decorate with desired toppings.
Bake for 10 minutes, or until cheese has melted.