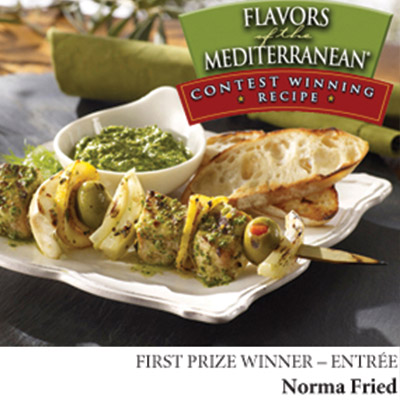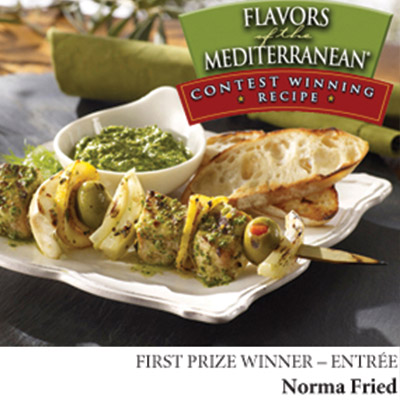 Ingredients
5 oz package baby arugula, or 2 1/2 cups packed arugula leaves, well dried
2 Tbsp. lemon juice, divided
1/2 cup fresh mint leaves, packed
2 Tbsp. feathery tops from fennel bulb
2 cloves garlic
1/4 cup toasted pine nuts
1/4 cup STAR Capers
3/4 - 1 cup STAR Extra Virgin Olive Oil
Salt and freshly ground pepper, to taste
1 1/2 lb swordfish steaks, cut into 1 1/4 inch chunks
1/2 - 1 tsp. crushed dried red peppers
1 large fennel bulb, cut in 6-8 wedges
2 large lemons, cut into 1/4 inch slices
1 baguette, sliced diagonally, 1/2 inch thick, grilled or toasted
Instructions
Pistou
In a food processor or blender, chop arugula with 1/2 Tbsp lemon juice, mint, fennel tops, garlic, pine nuts, and capers. With machine running, slowly pour in about 3/4 cup olive oil until mixture becomes a smooth paste. Season with salt and pepper. Scrape into a bowl.
Skewers
Place swordfish in a shallow dish. Sprinkle lightly with salt and pepper, remaining lemon juice and crushed pepper. Toss with 1/4 cup Pistou, until evenly coated. Marinate in refrigerator 1-2 hours.
Heat oiled grill to medium-hot. Brush fennel wedges with oil. Thread fish onto skewers alternating with olives, fennel and lemon slices. Grill over direct, medium-high heat about 6-8 minutes, turning once or twice, until fish is char-marked and no longer pink in the middle.
Remove skewers from grill and gloss with a little extra olive oil. Serve with baguette toasts spread with Pistou.
Prep Time: 10 mins
Cook Time: 2 hr 20 mins
Total Time: 2 hr 30 mins
Serves: 4