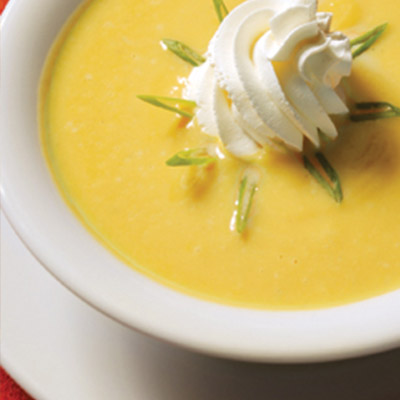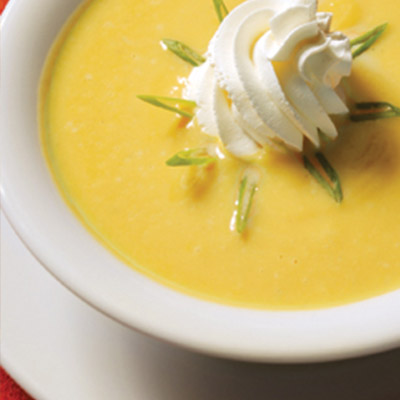 Ingredients
1 medium onion, chopped
1/4 cup STAR Extra Virgin Olive Oil
6 cups diced acorn or butternut squash, about 2 1/2 lb.
2 small Granny Smith apples, peeled, cored and diced
1 tsp. dried thyme leaves
1/8 tsp. ground red pepper, or more to taste
4 cups chicken broth
1 cup half and half
Salt and pepper
3/4 cup whipping cream, whipped
Sliced green onion
Instructions
In large pot, over medium-high heat, cook onion in olive oil until soft. Stir several times for 3 minutes.
Add squash, apples, thyme and red pepper. Cook until squash begins to turn golden around edges. Stir frequently for about 5 minutes.
Add broth and bring to boil. Reduce heat to low, cover and simmer for 1 hour, stirring several times. Turn off heat, uncover and allow soup to cool about 15 minutes.
Transfer about 1/3 of soup to blender and process until pureed. Repeat with remaining soup in two more batches.
Return pureed mixture to pot and stir in half and half. Return to simmer. Season to taste with salt and pepper.
Serve hot, garnished with whipped cream and a few green onion slices.
Prep Time: 10 mins
Cook Time: 1 hr 30 mins
Total Time: 1 hr 40 mins
Serves: 10-12