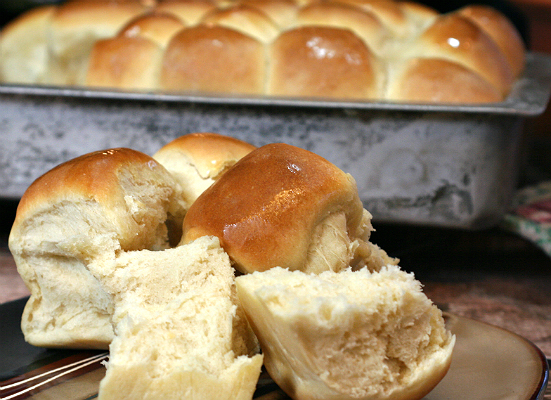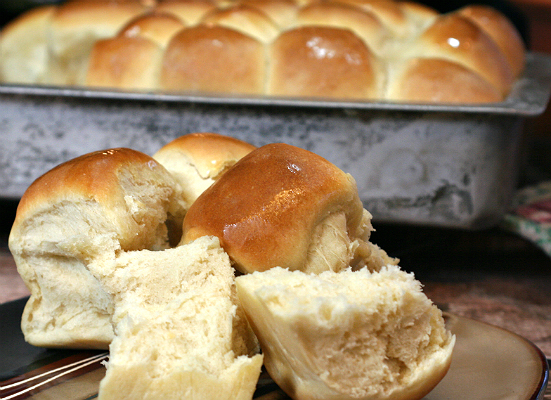 Ingredients
2 1/2 cup warm (110 degrees) milk
5 tsp. dry yeast
1/2 cup sugar
1/3 cup STAR Extra Light Olive Oil
2 tsp. salt
2 eggs
8 cups flour
Butter to brush tops of rolls
Instructions
Begin by dissolving the yeast in the warm milk in the bowl of your stand mixer. Add salt, sugar, Olive Oil, and eggs. Beat hard until liquid ingredients are combined. Be sure your dough hook is attached in your mixer. Add flour and mix until it is completely incorporated into the wet ingredients. This is a high-moisture dough, so it will be very sticky and sort of shaggy looking.
Continue to let the mixer "knead" the dough for you on medium speed for about 7 minutes. The dough will still be very soft and sticky, but will have pulled together in a smoother, very elastic lump. The sides of the bowl will have been cleaned by the dough as it was kneading.
Move the dough to a lightly floured counter or a non-stick silicone work surface. The dough still looks pretty rough at this point, but it's elastic and pulled together. Knead it 4 or 5 times to form a smooth ball. You can move the dough to a greased bowl and cover with plastic wrap. You want it to double in size and depending on the warmth of your home that could take between 30 and 45 minutes.
Once the dough has doubled in size remove the cover and return the dough to your work surface. Press it down to push out the air pockets.Form the flattened dough into a rectangle and cut it into 24 equal-sized pieces. Place the rolls into a well-greased 9×13 cake pan, allowing each to just tough the next. It will fill your pan completely.
Let the rolls rise until double in size. This will happen much more quickly than the first rise — probably 10 to 15 minutes. Bake in a 350 degree oven for 40-45 minutes or until rolls are a deep caramel brown on top.
Remove from oven and brush tops with butter, if you desire. Allow to cool in the pan for at least 25 minutes. When ready to serve, simply pull the rolls apart. They will release easily from the pan and each other. Serve plain or with butter, jelly and honey and enjoy!