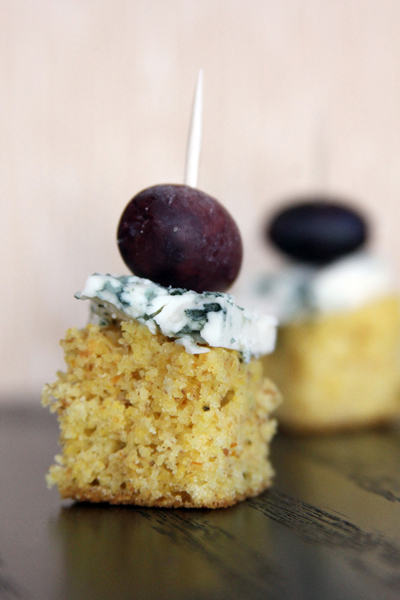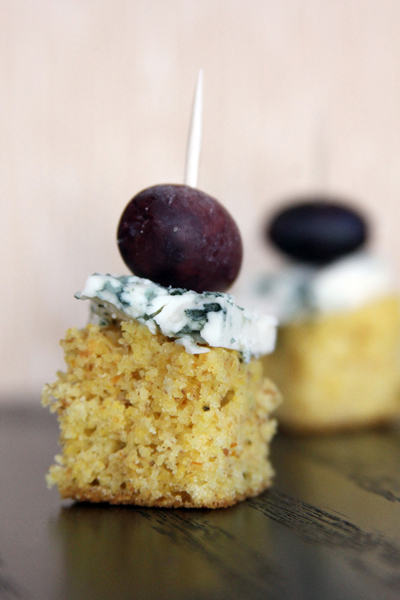 Ingredients
3/4 cup white flour
1/4 cup whole wheat flour
1 cup cornmeal
1 tsp. baking powder
1 tsp. baking soda
1/2 tsp. salt
1/3 cup STAR Extra Light Olive Oil
1 cup buttermilk or 1 Tbsp. of vinegar
1 egg
2 Tbsp. fresh rosemary, chopped
1/2 pound blue cheese
16 oz. kalamata olives
Instructions
Preheat oven to 350 degrees.
Whisk together flours, cornmeal, baking powder, baking soda and salt. Add all other ingredients and stir together just until moistened.
Pour into greased 8″x8″ pan and bake 20-25 minutes until a toothpick inserted comes out clean. After cornbread has cooled, cut into 1″ cubes.
Top each cube with piece of blue cheese and then an olive, holding all three pieces together with a toothpick.
Don't have buttermilk? Pour 1 Tbsp. of vinegar into a 1 cup measuring cup and then fill the rest of the cup with milk. Let sit for five minutes before using in recipe.