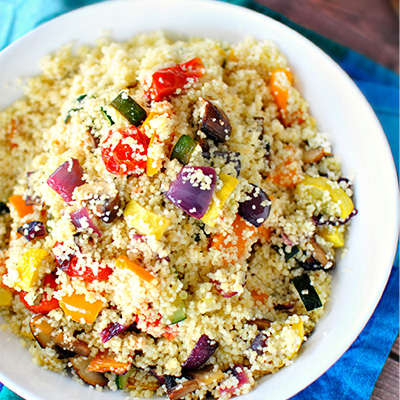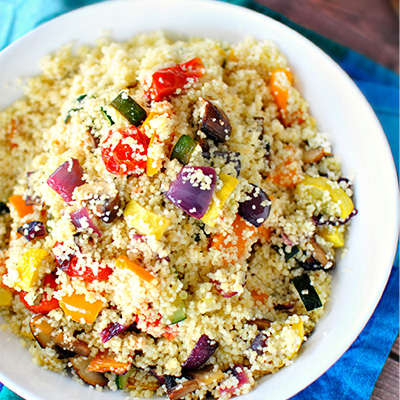 Ingredients
1 small zucchini, halved lengthwise and sliced into 1/2 inch moons
1 small yellow squash, halved lengthwise and sliced into 1/2 inch moons
1 cup grape tomatoes
1 cup sun gold tomatoes
1 small red onion, chopped
8-10 crimini mushrooms, quartered
5 Tbsp. of STAR Original Olive Oil (mix to taste with red pepper flakes and cayenne pepper), divided
Kosher salt
Black pepper
1 cup water
1 cup instant couscous
1/2 tsp. kosher salt
1 medium orange bell pepper
Instructions
Preheat your oven to 500 degrees.
On an aluminum sheet pan, drizzle four tablespoons of the olive oil over the prepared vegetables. Spread them out evenly, be careful not to over-crowd the pan. If each vegetable doesn't have its own space on the sheet pan, then divide them among two pans.
Season with a couple heavy pinches of kosher salt and then pop the vegetables into your preheated oven for 20-25 minutes, rotating the pan halfway through to ensure even roasting.
Once the vegetables are golden and caramelized, remove them from the oven and sprinkle with black pepper.
Meanwhile, in a medium sauce pan bring one cup of water and the remaining tablespoon of Mediterranean Cuisine Cooking Oil to a boil. Once the water is at a rolling boil, remove the pan from the