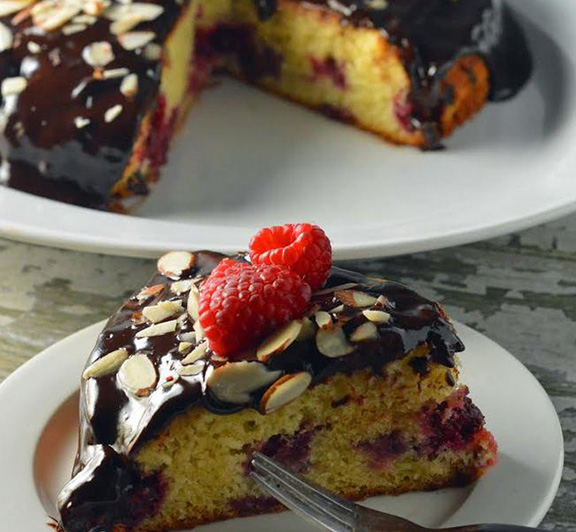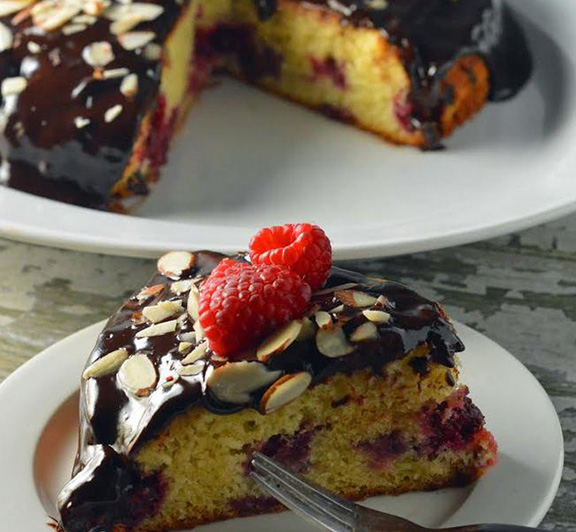 Ingredients
1 1/2 cups all purpose flour
2 tsp. baking powder
1/2 tsp. salt
1 cup sugar
3 large eggs
1/4 cup heavy cream plus ½ cup
3/4 cup STAR Extra Light Olive Oil plus more for greasing the pan
1 Tbsp. of almond extract
4 oz. cream cheese at room temperature, broken into 1 inch pieces
1 cup of fresh or frozen raspberries (reserve a few for garnish)
1/3 cup sliced almonds, toasted
10 oz. dark chocolate chips
Instructions
Preheat the oven to 350 degrees. Lightly oil an 8-inch-diameter cake pan with Olive Oil.
Whisk the flour, baking powder, and salt in a medium bowl together. Using an electric mixer beat the sugar, eggs, and almond extract in a large bowl until pale and fluffy. Then Beat in ¼ cup cream and cream cheese. Gradually beat in the oil. Add the flour mixture and raspberries and stir until just blended.
Transfer the batter to the prepared pan. Bake until center is completely cooked about 35-45 minutes (test with a toothpick). Transfer to a rack and cool for 15 minutes. Remove cake and place on serving platter.
Cook the chocolate chips and ½ cup heavy cream in the top of a double boiler over simmering water until smooth and warm, stirring occasionally.
Pour over cake, sprinkle almonds all over cake. Add a few raspberries and almonds on top for garnish.
Prep Time: 15 mins
Cook Time: 45 mins
Total Time: 1 hr
Serves: 8