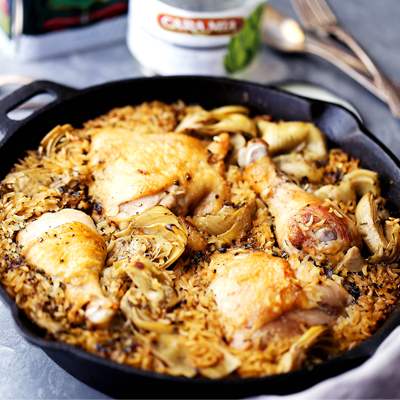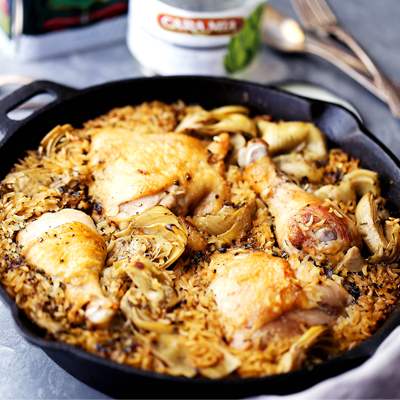 Ingredients
2 tablespoons STAR Extra Virgin Olive Oil
4 chicken pieces (thighs, breast, legs, etc…)
Salt and fresh ground pepper, to taste
3 to 4 cloves garlic, minced
1 cup long grain rice
1-1/2 cups organic, low sodium chicken broth
1 jar (14.75 ounces) Cara Mia Marinated Artichoke Hearts, drained
½ teaspoon dried Italian seasoning
½ teaspoon dried oregano
Instructions
Heat olive oil in a cast iron skillet. Add chicken pieces and cook for 4 minutes per side over medium-high heat. Remove chicken from skillet and set aside.
Add garlic to the skillet and stir for 10 to 15 seconds, or until fragrant. Stir in rice; stir for about 30 seconds. DON'T BURN THE RICE.
Place prepared chicken pieces over rice, and add the chicken broth.
Arrange artichokes around the pan; season with Italian Seasoning and oregano, and bring to a boil.
Carefully cover the skillet with aluminum foil and transfer to preheated oven.
Cook for 25 minutes, or until liquid is absorbed. Remove foil and continue to cook for 5 more minutes.
Remove from oven and serve.