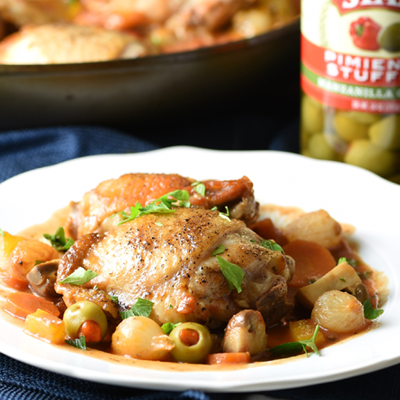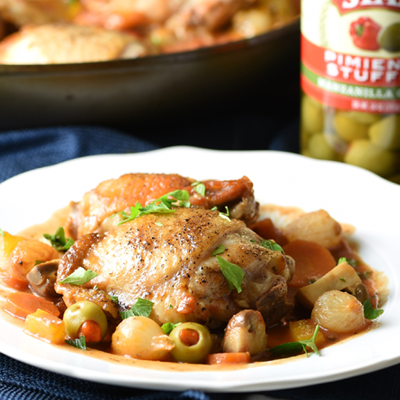 Ingredients
1 Tbsp. STAR Extra Virgin Olive Oil
8 small bone-in chicken thighs (about 2 pounds)
Salt and pepper
8 ounces whole cremini mushrooms, stems removed, quartered
1 medium yellow bell pepper, cut into 1-inch pieces
1 medium carrot, peeled, cut into thin rounds
3 cloves garlic, minced
1/2 cup white wine (or low-sodium chicken broth)
1 can (15 ounce) diced tomatoes with garlic and oregano, undrained
1 heaping cup of small frozen pearl onions
1 tsp. black pepper
2 Tbsp. STAR Balsamic Vinegar
1/3 cup chopped fresh parsley
Instructions
Heat olive oil in a large skillet over medium-high. Sprinkle chicken with some salt and pepper and add to the hot pan. Cook skin side down for 3 minutes until golden; flip and cook for 3 minutes more. Transfer to a plate and keep warm.
Add mushrooms, bell pepper, carrot, and garlic to the pan drippings; saute for 4 minutes.
Add in the wine and allow to evaporate. Stir in the tomatoes, along with their juices, pearl onions, and the pepper. Return chicken to the skillet, nestled in the tomato and vegetable mixture.
Cover skillet, reduce heat to a gentle simmer, and cook for about 15 minutes or until chicken is cooked through (at least 175 degrees F.)
Stir in the vinegar and olives; warm through. Season with a pinch more salt and pepper. Sprinkle with the parsley before serving.
Recipe developed by: http://bellyfull.net
Prep Time: 10 mins
Cook Time: 25 mins
Total Time: 35 mins
Serves: 4