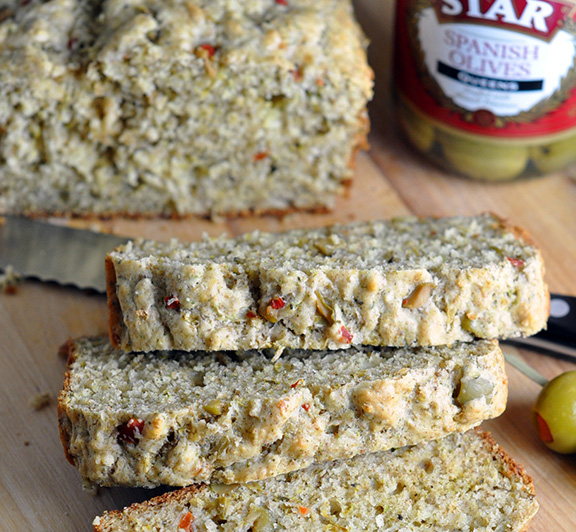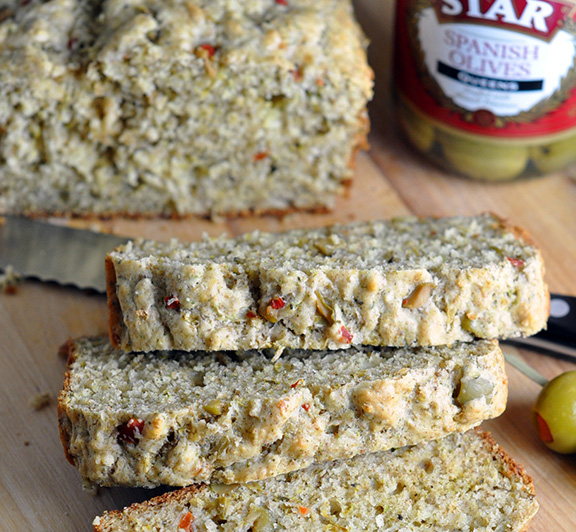 Ingredients
1 Tbsp. unsalted butter
1 medium sweet onion, diced
1 1/2 cups all purpose flour
1 tsp. baking soda
2 tsp. baking powder
1/2 tsp. salt
1 Tbsp. dried Italian herbs
1/3 cup grated Parmesan cheese
1 cup low-fat buttermilk
2 Tbsp. unsalted butter, melted
2 eggs
11 STAR Pimiento Stuffed Olives, chopped (about 1/2 cup)
Instructions
Heat 1 tablespoon butter over medium-high in a medium nonstick skillet. Sauté onions until soft and translucent, about 3 minutes, stirring occasionally. Set aside.
In a large bowl, whisk together the flours, baking soda, baking powder, salt, herbs, and cheese.
In a medium bowl, whisk together the buttermilk, 2 Tbsp. melted butter, eggs, onions, and olives until combined. Add wet mixture to the dry ingredients, stirring until moist and incorporated. (Do not over-mix.)
Transfer batter to the prepared loaf pan. Bake for 40-45 minutes or until the top is golden and a tooth pick (or long skewer) inserted in the middle comes out clean. Let cool in pan for 10 minutes, then transfer to a cutting board.
Slice warm or at room temperature and enjoy!
Recipe developed by: http://bellyfull.net
Prep Time: 15 mins
Cook Time: 45 mins
Total Time: 1 hour
Serves: 10