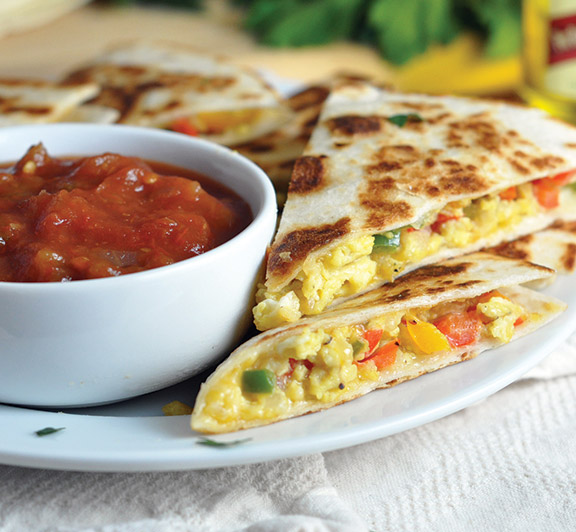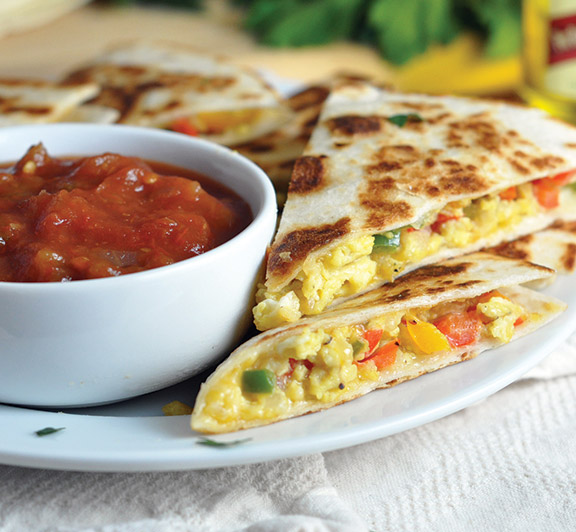 Ingredients
2 Tbsp. STAR Extra Light Olive Oil, divided
1/4 cup diced red bell pepper
1/4 cup diced orange bell pepper
1 small jalapeño, diced (seeds removed)
1/2 cup diced sweet onion
2 eggs, beaten 3/4 cup Colby jack cheese, divided
2 (8-inch ) flour tortillas
Salt and pepper
Instructions
In a large non stick skillet, warm 1 Tbsp. of the butter olive oil over medium-high heat. Add the bell peppers, jalapeño, and onion. Sauté for 5 minutes until the vegetables are soft; season with salt and pepper. Add in the eggs, cook, stirring often, until the eggs are just set, about 1-2 minutes. Transfer mixture to a bowl and keep warm.
Brush one side of each tortilla with the remaining Tbsp. of olive oil. On the un-oiled side, sprinkle half of the cheese, the egg mixture, followed by the remaining cheese, and topped with the 2nd tortilla, oiled side up.
Clean out the skillet with some paper towels and heat up again on medium-high. Once hot, place the quesadilla in the pan and let cook for a minute; check the underside to see if it's browned and crispy; flip with a large spatula and cook the other side for 1-2 minutes until golden and cheese has melted.
Transfer to a cutting board and slice into 8 wedges. Serve with salsa and sour cream, if desired.
Recipe developed by: http://bellyfull.net
Prep Time: 10 mins
Cook Time: 10 mins
Total Time: 20 mins
Serves: 2