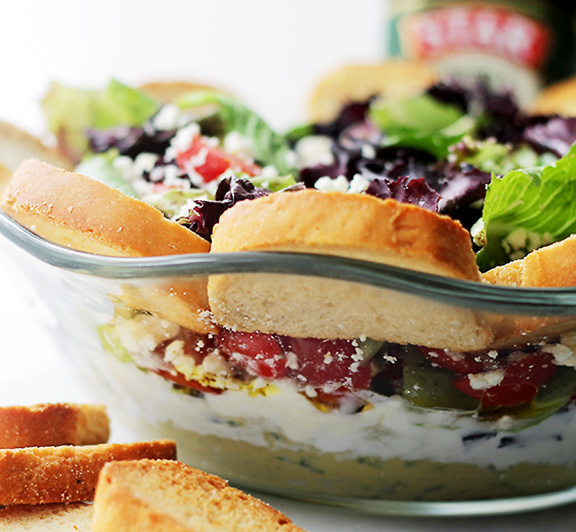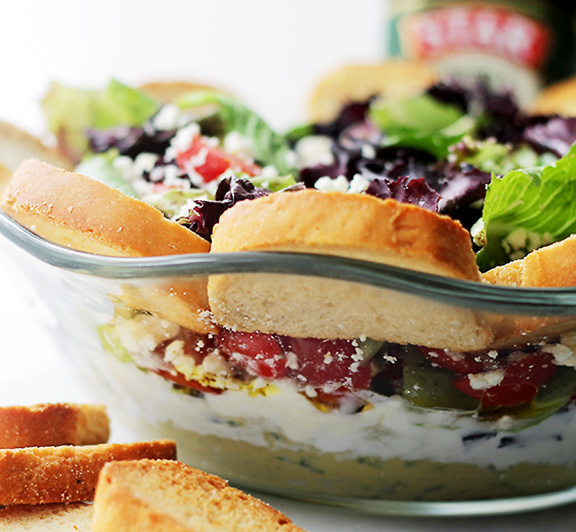 Ingredients
For the Hummus

1 can (16-oz.) garbanzo beans, rinsed
3 Tbsp. STAR Extra Virgin Olive Oil
2 Tbsp.  tahini paste (if you don't have tahini paste, you don't have to use it)
3 garlic cloves
Fresh lemon juice from 1 whole lemon
¼ cup fresh Italian parsley leaves
Salt and fresh ground pepper, to taste
2 Tbsp. water

Layers

Prepared hummus dip
1 cup plain non-fat yogurt
1 jar (14.75-ounces) Cara Mia Artichoke Hearts in Water
1 cup sliced STAR Spanish Ripe Medium Pitted Olives
6 to 8 cups Romaine lettuce leaves
2 cups sliced cherry tomatoes
1 container (4-ounces) crumbled feta cheese
Toasted garlic bread slices for serving
Instructions
Place all hummus dip ingredients in a food processor; process for 2 minutes, scrape down the sides and continue to process until smooth and thoroughly combined, about 4 minutes. If you like a thinner hummus, add 1 more tablespoon water and process it until combined.
Spoon prepared hummus into a deep salad bowl or trifle bowl. Add yogurt over hummus. Layer artichoke hearts over the yogurt. Add sliced black olives. Layer lettuce leaves over olives; add tomatoes and feta cheese. Sprinkle with a bit of extra virgin olive oil (optional) and serve with toasted garlic bread slices.
Note: You can make the Dip a few hours ahead of time, but keep it refrigerated and don't add the olive oil to the top of the lettuce until ready to serve.
Related Recipes
Time: 45 minutes

Serves: 4