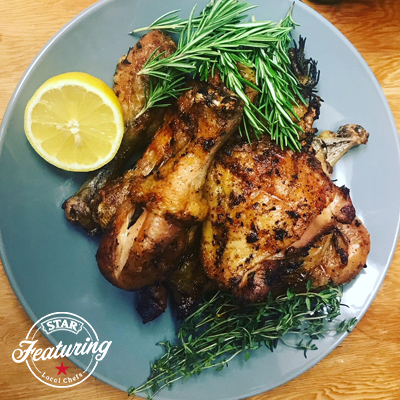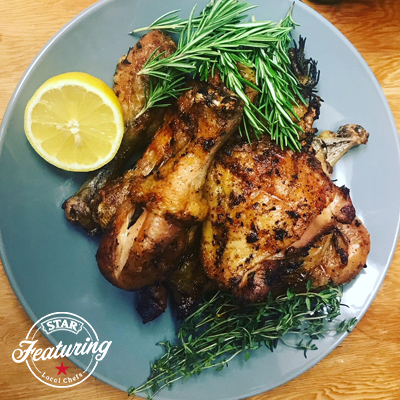 Ingredients
8 pieces of chicken (mix of legs and thighs)
1 cup lemon juice
2 cups STAR Grapeseed Oil 
1 Tbs. salt
1 Tbs. pepper
1 Tbs. garlic powder
1 Tbs. onion powder
1 Tbs. paprika
8 sprigs of rosemary
8 sprigs of thyme
Instructions
For the marinade, place chicken in a bowl or a gallon Ziploc bag. Next, add the lemon juice and STAR Grapeseed oil. I like using the Grapeseed oil for grilling because it gives the chicken a nice crust.
Now, add all the dry spices. Remove the leaves from the rosemary and thyme and add them into the bag. Once everything is in the bag, let all the ingredients sit for at least 1 hour in the refrigerator.
Make sure the grill is nice and hot if you have a thermometer, look for a temperature around 350-400 degrees. Place chicken on the grill on indirect heat (not over the flame), though this is a slower process, it will give better results. Put the lid down and let it cook for 30 minutes.
After 30 minutes, lift the lid and flip the chicken. Close the lid for another 30 minutes. Now that the chicken has been on the grill a full hour, take the lid off finish the chicken over direct heat for 6 minutes on each side.
Remove chicken from  the grill and let it rest for 15 minutes. Plate up and eat up!