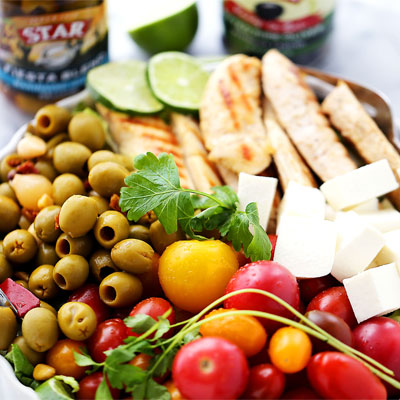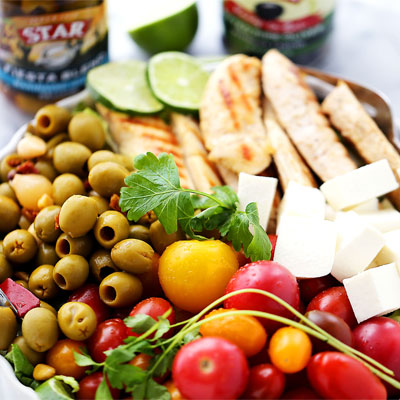 Ingredients
For the Chicken
1-pound chicken tenders OR 4 boneless skinless chicken breasts
Zest of 1 large lime
Fresh lime juice from 1 large lime
2 cloves garlic, minced
1 tablespoon ground cumin
1 teaspoon salt
¼ teaspoon fresh ground pepper


For the Salad
6 to 8 cups chopped lettuce
12 ounces grape or cherry tomatoes
1 cup crumbled queso fresco


For the Cilantro Lime Vinaigrette
2 tablespoons STAR Extra Virgin Olive Oil
2 tablespoons fresh lime juice
1 garlic clove, minced
½ teaspoon sugar
½ teaspoon salt
⅛ teaspoon ground cumin
1 tablespoon chopped fresh cilantro
Instructions
For the Chicken:
In a medium bowl, whisk together the oil, zest, lime juice, garlic, cumin, salt and pepper until thoroughly combined and smooth.
Add the chicken and toss until coated with the marinade.
Cover and refrigerate for at least 2 hours, or overnight.
Remove chicken from fridge.
Place a grill pan over medium-high heat and spray the grill lightly with cooking spray. Remove the chicken from the marinade. Discard the marinade. Grill the chicken about 5 minutes on each side, or until cooked through.
Remove from heat and set aside.
Place chopped lettuce on the bottom of a large salad bowl. Arrange olives, tomatoes, prepared chicken and queso fresco over lettuce; set aside.
For the Vinaigrette:
In a small bowl, whisk together the olive oil, lime juice, garlic, sugar, salt, cumin and cilantro; whisk until thoroughly incorporated.
Drizzle over salad. Serve.
Recipe developed by: http://www.diethood.com
Prep Time: 2 hrs
Cook Time: 15 mins
Total Time: 2 hrs 15 mins
Serves: 4