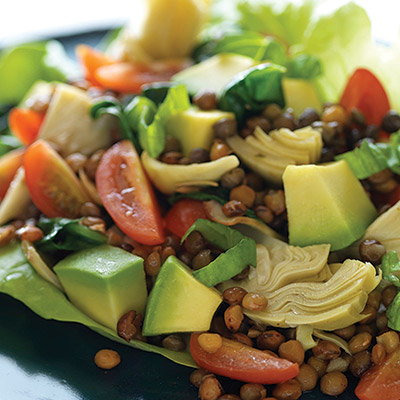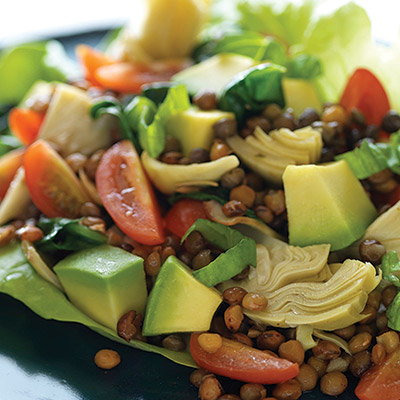 Ingredients
½ cup dried lentils, sorted and rinsed
2 ½ Tbsp. STAR Extra Virgin Olive Oil
2 Tbsp. STAR Balsamic Vinegar
2 medium garlic cloves, minced
¾ tsp. dried rosemary
½ tsp. salt
⅛ tsp. dried pepper flakes, optional
1 ½ cup grape tomatoes, quartered
1 cup Cara Mia Marinated Artichoke Hearts, (drained, reserve marinade), coarsely chopped
2 Tbsp. reserved artichoke marinade
½ ripe, Fresh California Avocado, peeled, seeded and chopped
¼ cup chopped fresh basil, or to taste
1 cup spring greens or baby spinach, coarsely chopped
Instructions
Bring 2 cups water to boil in medium saucepan. Stir in lentils, reduce heat, cover, simmer 20 minutes or until just tender.
Meanwhile, whisk together oil, vinegar, garlic, rosemary, and salt in medium bowl.
Fold in remaining ingredients, except spring greens.
Drain lentils in colander and run under cold water to cool quickly. Shake off excess liquid and stir into the artichoke mixture.
Fold in spring greens until slightly wilted and serve.
Prep Time: 10 mins
Cook Time: 20 mins
Total Time: 30 mins
Serves: 4