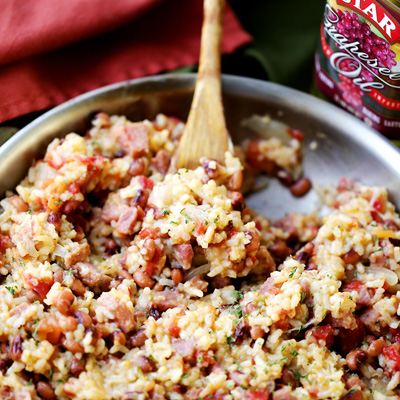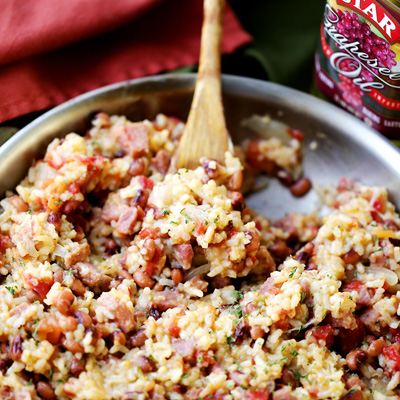 Ingredients
1 tablespoon STAR Grapeseed Oil
1 yellow onion, thinly sliced
Pinch of salt
2 cups cooked diced ham
1 cup quick cooking rice
2 cups reduced sodium vegetable broth
1 can (15.5 ounces) black-eyed peas, well rinsed and drained
1 large tomato, diced
½ teaspoon seasoned salt, or to taste
Fresh ground pepper, to taste
3 tablespoons chopped fresh parsley
Instructions
Heat Grapeseed Oil in a large skillet.
Add onions and cook for 2 minutes. Add ham and continue to cook for 4 minutes, stirring occasionally.
Stir in the rice and vegetable broth; set heat on high and bring mixture to a boil.
Mix in the black-eyed peas.
Cover skillet and reduce heat to a simmer; continue to cook for 10 minutes, or until most of liquid is absorbed.
Stir in tomatoes; season with seasoned salt and pepper and continue to cook for 2 minutes or until heated through.
Remove from heat. Stir in fresh parsley.