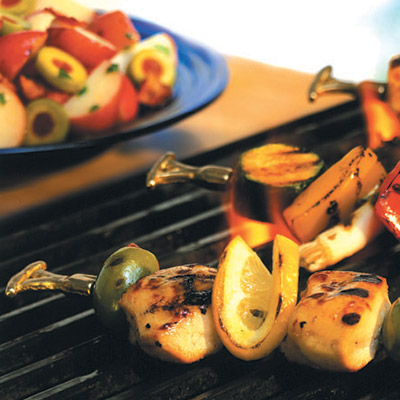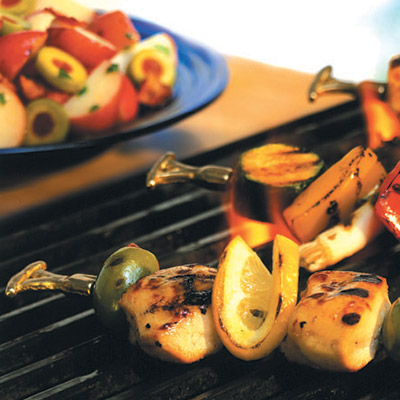 Ingredients
1/3 cup lemon juice
1/4 cup STAR Extra Virgin Olive Oil
1/4 cup chopped fresh parsley
2 Tbsp. finely chopped onion
2 garlic cloves, minced
1 Tbsp. grated lemon zest
1 tsp. minced fresh thyme
1/2 tsp. salt
1/2 tsp. freshly ground pepper
4 chicken breasts without bone and skin
1 lemon thinly sliced (optional)
1 each yellow and red bell pepper, cut into 1 ½ squares
3 small zucchini cut in 1 ½ inch lengths
1 bunch green onions cut in 3 inch lengths
Instructions
In a large resealable plastic bag, combine the lemon juice, oil, parsley, onion, garlic, lemon zest, thyme, salt and pepper; add chicken. Seal bag and turn to coat; refrigerate at least 2 hours or overnight, turning occasionally. Drain and discard marinade.
Cut chicken in 1 ½ inch cubes and thread onto four 10 inch skewers with lemon slices and olives.
Thread alternating vegetables onto four separate skewers. Place over medium hot coals and grill, turning several times until cooked through, approximately 12 minutes.
Prep Time: 10 mins
Cook Time: 2 hr 12 mins
Total Time: 2 hr 22 mins
Serves: 4