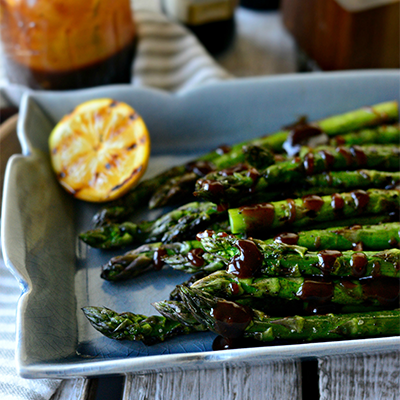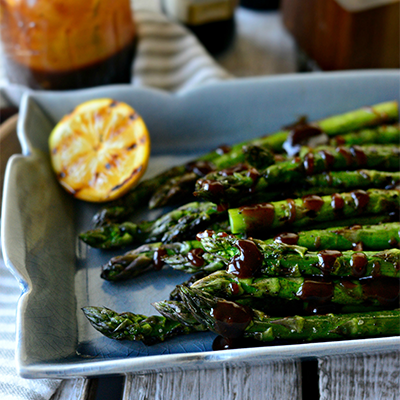 Ingredients
1 garlic clove, finely minced
1-1/2 tsp. country Dijon mustard
1-1/2 tsp. honey
1/2 tsp. kosher salt, plus more for asparagus
3/4 cup STAR Extra Virgin Olive Oil, plus more for asparagus
1 bunch fresh asparagus
1 lemon cut in half
Instructions
In a small glass jar add the garlic, mustard, honey, salt, pepper, vinegar and olive oil. Secure lid and shake to combine. Set aside or refrigerate until ready to serve.
Preheat an outdoor grill or grill pan to medium-high heat. In a shallow dish toss the asparagus with a tablespoon of olive oil and two pinches of salt and pepper.
Grill the asparagus for 4 to 5 minutes per side until just tender. Transfer grilled asparagus to a serving dish and drizzle with desired amount of vinaigrette.
Quickly grill lemon halves and squeeze a Tbsp. of juice over top. Serve immediately.
Note: Any remaining dressing can be saved and refrigerated for another purpose.