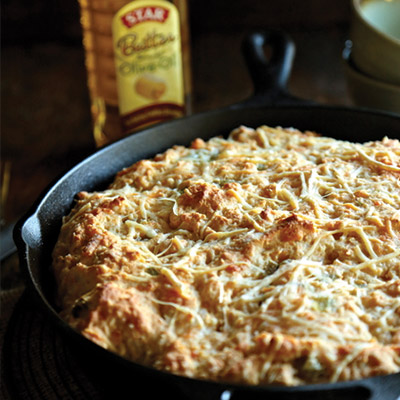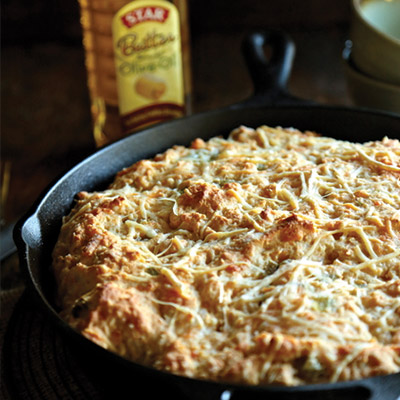 Ingredients
2 ½ cup flour
¼ cup sugar
4 tsp. baking powder
1 tsp. salt
½ tsp. pepper
1 ½ cup cheddar, shredded
½ cup armesan cheese, shredded
12 oz., beer – choice of flavor
1 4 oz. can of chopped green chilies
Instructions
Preheat oven to 450 degrees.
In a large bowl, whisk together dry ingredients. Stir in cheddar cheese, green chilies , and ¼ cup of parmesan cheese until they are combined, breaking up any clumps of cheese.
Heat an oven safe skillet on the stove over medium high heat. Pour the olive oil into the skillet and swirl around whole skillet until the bottom and sides of the skillet are coated.
Once the skillet is heated, drizzle the heated olive oil over the dry ingredients and momentarily set aside the skillet. Next, pour the beer over the rest of the bread ingredients and stir until just combined. Be sure to not over mix the bread, it will be lumpy and very thick.
Pour the bread batter into the heated skillet and spread out to the batter over the whole pan. Sprinkle with the remaining parmesan cheese. Bake immediately for 15-20 minutes or until a tooth pick inserted into the middle comes out clean.
Remove from the oven and let cool slightly before slicing and serving.
Related Recipes
Time: 4 hrs 2 mins

Serves: 10