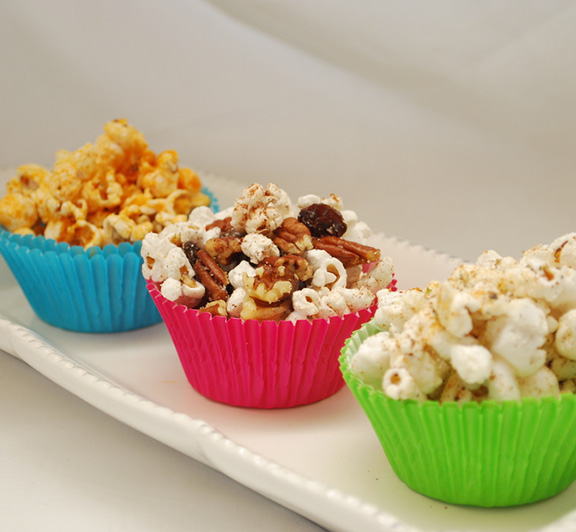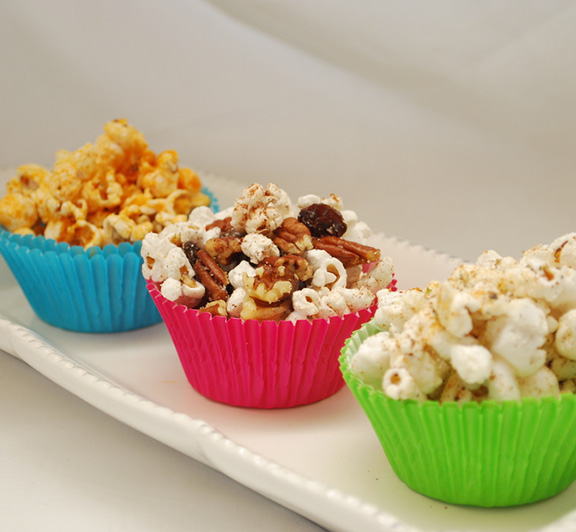 Ingredients
For Popcorn

¼ Cup + 3 Tbsp. STAR Extra Light Olive Oil
½ Cup tender white popcorn kernels

Italian

½ tsp. dried basil
¼ tsp. dried thyme
½ tsp. ganulated onion
½ tsp. granulated garlic
½ cayenne pepper
½ cup Parmesan cheese -grated

Cinnamon Raisin

2 Tbsp. sugar
3 Tbsp. pecans-chopped
3 Tbsp. walnuts-chopped
¼ cup raisins
2 Tbsp. cinnamon

Italian Wing It

1 glove garlic-smashed
4 Tbsp. hot sauce
½ tsp. celery seed
1/3 cup gorgonzola
Instructions
Place oil and kernels in a heavy bottomed sauce pan, on medium, high heat. Cover and shake pan occasionally. When popping slows down and remove from heat and set popcorn in a bowl and top with your favorite topping and mix. Serve and Enjoy!
Mix all Italian ingredients together, except cheese in a small saucepan and cook on low heat for a couple of minutes to warm and meld ingredients. Pour mixture over popcorn and mix, sprinkle with cheese and mix again. Serve.
In a bowl mix together all Cinnamon Raisin ingredients. Sprinkle on hot pop corn and mix and serve.
In a small sauce pan add all ingredients except cheese and whisk together on medium-low heat. Cook for a couple of minutes, remove garlic and pour over popcorn and mix. Sprinkle with gorgonzola and toss and serve.
Prep Time: 10 mins
Cook Time: 15 mins
Total Time: 25 mins
Serves: 4-6