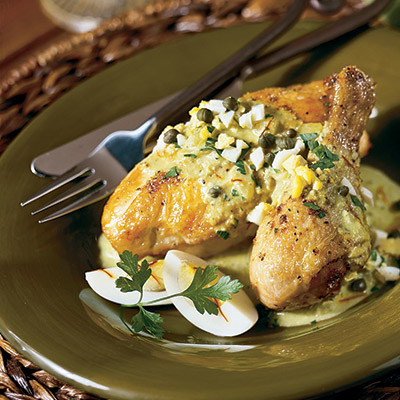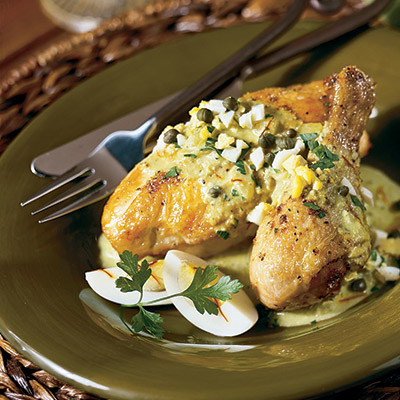 Ingredients
5 lbs. chicken pieces
Salt and freshly ground pepper
3 Tbsp. STAR Original Olive Oil
1 large onion, chopped
4 cloves garlic, minced
2 Tbsp. all-purpose flour
1 1/2 cups chicken broth
1 bay leaf
Pinch saffron strands
1/2 cup slivered almonds
3 Tbsp. minced parsley
2 hard-cooked eggs, chopped
2 Tbsp. STAR Capers
Instructions
Sprinkle chicken with salt and pepper to taste. Heat olive oil in 1 very large or 2 medium skillets over medium-high heat. Add chicken and brown on all sides, about 3-5 minutes per side. Remove chicken and set aside. Pour off all but 2 Tbsp. of pan drippings.
In same pan, sauté onion and half of garlic until soft. Stir in flour to blend, then slowly stir in 1 cup broth, bay leaf and saffron. Return chicken to pan, cover and simmer over medium-low heat 30 minutes.
Meanwhile, in blender, combine almonds, 2 Tbsp. parsley, remaining garlic and broth. Process until almonds are finely ground.
With tongs or slotted spoon, transfer chicken to platter. Turn heat to high and stir almond mixture into pan liquids. Bring to boil and boil 1-2 minutes, or until slightly thick. Pour sauce over chicken and sprinkle with eggs, capers and remaining parsley.
Place onto a plate and serve.
Related Recipes
Time: 6 hrs 10 mins

Serves: 8

Time: 40 minutes

Serves: 6 to 8