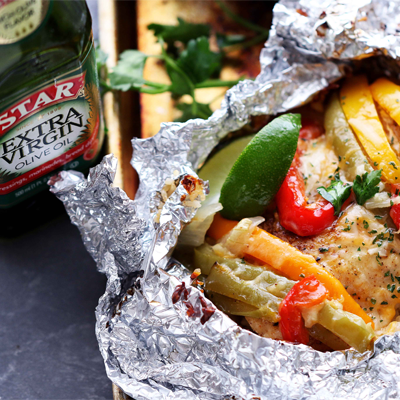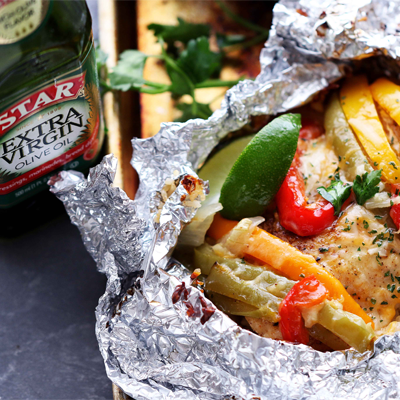 Ingredients
4 large sheets of foil
Cooking spray
Fajitas seasoning mix
1 cup white minute rice
1 cup warm water
4 boneless, skinless chicken breasts
Salt and fresh ground pepper, to taste
1 red bell pepper, sliced
1 green bell pepper, sliced
1 orange bell pepper, sliced
1 onion, sliced
1 tablespoons STAR Extra Virgin Olive Oil
1/4 cup shredded mild cheddar cheese
1/4 cup shredded part skim mozzarella cheese
Lime juice

Optional Garnishes:
Sliced avocados
Sour cream
Cilantro
Instructions
Spray foil sheets with cooking spray and set aside.
Combine rice, water, and 1 tablespoons fajitas seasoning mix in a bowl; stir until well incorporated. Using a slotted spoon, divide the rice mixture evenly over each foil.
Season chicken breasts with salt, pepper, and rub with some of the fajitas seasoning mix and place the chicken over the rice.
Arrange peppers and onions on the sides of each chicken breast and drizzle Extra Virgin Olive Oil over all the ingredients.
Combine shredded cheeses and divide the cheese mixture evenly over each chicken breast.
Fold the sides of the foil over the chicken, covering completely; seal the packets closed.
Transfer the foil packets to a large baking sheet and bake for 30 to 33 minutes, or until chicken's internal temperature reaches 165F.
Remove from oven and carefully open up the foils; put the packets under the broiler for 3 to 4 minutes. Once cool squeeze lime juice over food.
Recipe developed by: http://Diethood.com
Prep Time: 10 Mins.
Cook Time: 35 Mins.
Total Time: 45 Mins.
Serves: 4